Here is a Hong Kong-listed Chinese real estate developer paying a premium to redeem its U.S. dollar-denominated notes more than a year early.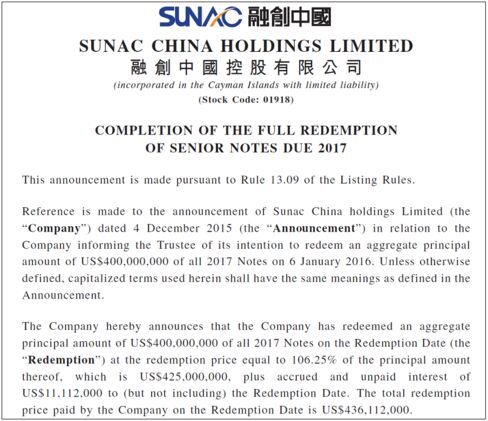 As others have already noted, the move by Sunac China Holdings and other Chinese companies is part of a widening trend of non-U.S. companies seeking to shed their dollar debts just as the greenback continues its vertiginous climb. While it's relatively rare for companies to redeem their bonds early, it does make sense in the wider scheme of capital (out)flows and a foreign FX debt bill that is growing larger by the day.
It's also a point picked up with some aplomb by Macquarie analysts on Monday. While wading into a raft of extensive cross-border lending data from the Bank for International Settlements, they argue that the appreciation of the U.S. dollar is already generating sharp deleveraging.
"Global liquidity moves in irregular and powerful waves, appearing to be stronger when the U.S. dollar is depreciating, and weaker when the U.S. dollar is appreciating," write Macquarie's Peter Eadon-Clarke and Nara Song, citing a rule of thumb from the BIS's Hyun Song Shin, who has previously estimated that every 1 percent move in the U.S. dollar affects the annual growth rate in cross-border lending by 2 percent.
"Swings in global liquidity are associated with credit booms and subsequent financial vulnerability in emerging market economies (EMEs). Into the credit-growth contraction phase across EMEs, we expect 2016 to see some major debt restructurings, but no cascading cross-border banking crisis," the Macquarie analysts add.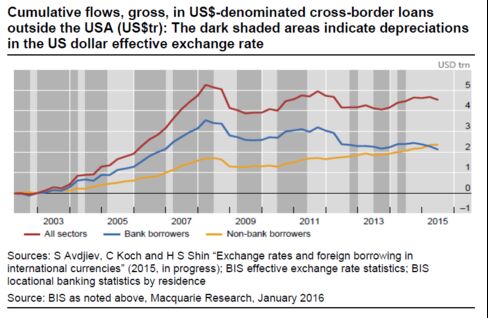 Nonbank corporate borrowers in emerging markets are likely to be the most vulnerable during a downdraft of global liquidity, they posit, having tapped generous foreign lenders somewhat liberally in recent years. The U.S. dollar-denominated debt of nonbank companies in emerging markets has roughly doubled since 2007, reaching $3.3 trillion as such companies rushed to take advantage of cheap dollar-borrowing costs and essentially import the easy U.S. monetary policy of recent years.
Such dollar-denominated borrowings would not be that worrying if companies had used them simply to buy overseas assets, thereby eliminating any outright currency mismatch. Unfortunately, as the preceding paragraph hints, this has probably not been the case across the board.
"There appear significant international debt issue proceeds flowing back to the home country, through a variety of channels," the Macquarie analysts note.
In fact, a deeper dive into the cross-border data previously released by the BIS shows some interesting patterns.
Foreign borrowings that end up being brought home and deposited in a bank or lent out to another company wind up as "corporate deposits" and "between company credit"—the latter of which currently equates to about $20 billion across emerging markets. While that number may seem paltry, it's indicative of a wider trend that has seen nonbank companies increase in importance as providers of credit.
Meanwhile, proceeds that end up being repatriated to corporate headquarters show up in the BIS statistics as something called "within company credit."
That number is estimated to be substantially bigger than "between company credit," at around $100 billion. And while the aggregate level of "within company credit" may be dwarfed by the more than $3 trillion total in cross-border lending, it disguises some huge differences between regions and countries.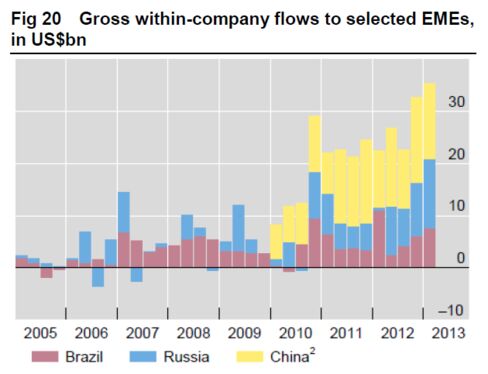 "There have been sizable increases in within company flows in Brazil, China and Russia to more than $20 billion per quarter for these three countries combined, which was broadly similar to the size of total portfolio inflows to the three countries during this period," the Macquarie analysts note.
The wild card here is the extent to which those corporations have taken steps to offset their dollar exposures, and the degree to which moves such as Sunac's prove to be the norm, rather than the exception.
Before it's here, it's on the Bloomberg Terminal.
LEARN MORE