Greece Reaches Tsipras Anniversary Facing Pension Battle
Bonds sink ahead of tough negotiations over pension reform

Government wants speedy end to bailout review with creditors
Prime Minister Alexis Tsipras is marking the one-year anniversary of his election on Monday as Greece finds itself once again with a battle on its hands.
A grueling negotiation over reforms looms with the country's creditors, and bonds are sinking once more after a roller-coaster year. Tsipras is hurtling toward a showdown over the country's social security reforms, which he wants to push through by raising contributions and not cutting primary pensions. Protests are also mounting at home as Greeks brace for more pain under a premier they elected for his anti-austerity promises.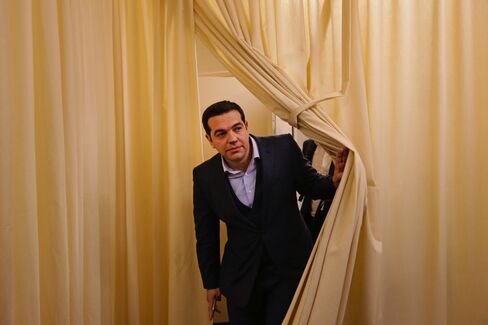 "The worst still lies ahead for Tsipras in terms of the social backlash to difficult measures like pension reform," said Sotiria Theodoropoulou, a senior researcher at the European Trade Union Institute in Brussels. "The measures target mostly the middle class, the very same groups that brought him to power, and whatever honeymoon the government enjoyed with trade unions is now over."
Markets have taken note of the potential turmoil ahead. Greek bonds are the worst among all sovereign securities tracked by Bloomberg's world indexes in 2016, even after Standard & Poor's upgraded Greece's credit rating one level to B- on Jan. 22, citing expectations it will reach a compromise with creditors on pensions by the end of March.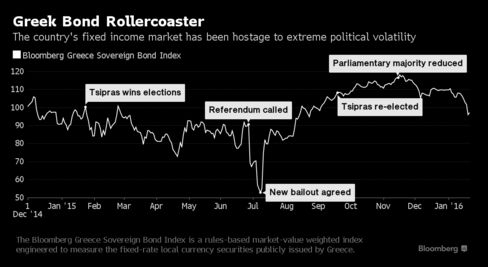 Rising Yields
The yield on Greece's 10-year benchmark rose 13 basis points to 9.46 percent at 10:43 a.m. in Athens on Monday, an increase of 107 basis points since the start of the year. Even more worryingly, the government's two-year notes yield 285 basis points more that the 10-year debt, levels last seen before Greece signed its third bailout in August, indicating rising investor concern about a default.
"These bouts of volatility in Greek yields say that the Greek crisis is not over," said Gianluca Ziglio, the executive director of fixed-income research at Sunrise Brokers LLP in London. "It gets temporarily parked, or put out of focus, for a short while by temporary transient measures being taken but then comes back to the center of the stage every time we approach a review."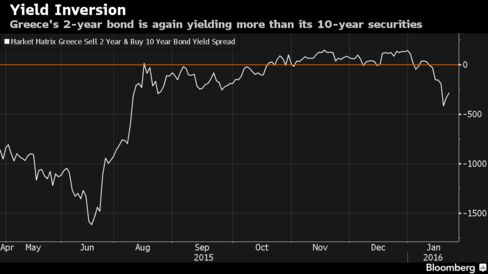 Frosty Reception
Tsipras's frosty reception at the World Economic Forum last week in Davos, where he held meetings with International Monetary Fund Managing Director Christine Lagarde and European Central Bank President Mario Draghi, came as Greek officials in Athens and low-ranking officials from the country's creditor institutions exchanged data relating to the government's pension proposals.
European Union Economic Affairs Commissioner Pierre Moscovici stressed at Davos that Greece's proposal -- which will merge several pension funds and reduce social security spending by 1 percent of gross domestic product this year -- was a comprehensive first draft that needs to be fleshed out. For their part, Tsipras and his finance minister, Euclid Tsakalotos, stressed the need for a speedy conclusion of the review to show investors that the country has turned the page.
The government's need for an international success comes amid mounting domestic woes. Tsipras will have to get the reforms through parliament, where he holds a majority of just three seats. Also, in the latest protest against his government, farmers and seamen are threatening to mark his anniversary by disrupting transport.
Domestic Woes
Farmers have threatened to block Greece's main motorways to protest the planned social security reforms. Seamen begin a 48-hour strike on Wednesday, blocking all ferry transport to the islands. In a speech on Sunday to commemorate the anniversary, Tsipras insisted that the reform was needed to avert a collapse of the pension system.
Tsipras faces a rejuvenated opposition, with the New Democracy party moving ahead of his Syriza party in two opinion polls since electing a new leader, Kyriakos Mitsotakis, on Jan. 10.
The business front has turned equally troublesome, with a dispute over development of a gold mine in northern Greece souring relations with Canada's Eldorado Gold and the removal of Piraeus Bank's chief executive officer upsetting the hedge fund Paulson & Co. Inc., both investors in Greece.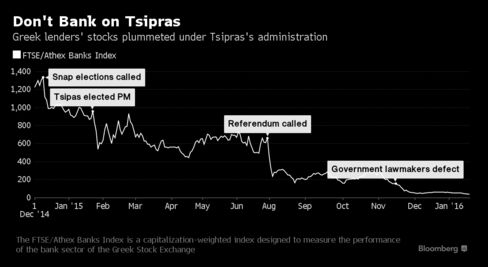 Under the terms of Greece's bailout, the government needs to achieve a budget surplus before debt service of 3.5 percent of gross domestic product by 2018. That target underpins the demands of Greece creditors that the pension reforms make sufficient savings. Behind that is the promise of debt relief to follow, which would act as a vote of confidence that will attract investment and help the country grow.
Tsipras's government has said cuts in primary pensions is a "red line'' it won't cross. For creditors, the government's proposed option of raising contributions instead of cutting pensions would hurt growth. Until the standoff is resolved, investors are making the government's goal of a bond market return in the second half of this year look increasingly unlikely.
"Greece is still a problem," billionaire investor George Soros said in an interview with Bloomberg Television's Francine Lacqua in Davos on Friday. "It has been so messed up that you can only muddle along. But there is no solution, and actually that problem is now coming to the boiling point again. You can see it on the face of Tsipras."
Before it's here, it's on the Bloomberg Terminal.
LEARN MORE