Goldman's Cohn Says Sell Treasuries; Morgan Stanley Is Bullish
Cheaper oil doesn't mean the global economy is slowing: Cohn

Federal Reserve holds first policy meeting of 2016 this week
Goldman Sachs Group Inc. President Gary Cohn says Treasury yields will probably rise, just as Morgan Stanley predicts the opposite.
"If I had to trade it right now, I'd sell," Cohn said in an interview Jan. 22. The benchmark 10-year yield will probably be in a range of 2 percent to 2.30 percent, he said. It was 2.03 percent Monday.
"The bull market is here," Morgan Stanley wrote in a report dated Sunday by analysts led by Matthew Hornbach, the head of global interest-rate strategy. Ten-year yields may fall to a range of 1.55 percent to 1.75 percent, according to the report.
The diverging views highlight the difference of opinion over the influence of falling oil prices on the U.S. economy and whether a surprise rally in Treasuries this year can go any further. Goldman Sachs and Morgan Stanley, which are both based in New York and among the 22 companies that trade directly with the Federal Reserve, are chiming in as the central bank prepares to hold its first policy meeting of the year Tuesday and Wednesday.
Ten-year Treasury yields fell three basis points Monday as of 9:23 a.m. in New York, based on Bloomberg Bond Trader data. The 2.25 percent note due in November 2025 rose 7/32, or $2.19 per $1,000 face amount, to 101 31/32.
Oil's Influence
Cohn said traders are allowing oil prices to hold too much sway over other markets. Crude fell to a 12-year low last week.
Treasuries have earned 1.5 percent in January, heading for their biggest monthly gain in a year, based on Bloomberg World Bond Indexes, as tumbling oil and equity prices drive investors to the relative safety of government debt.
"What's going on in the oil market should not be dictating what's going on in the equity market and what's going on in the fixed-income market," Cohn said. "I think people are confusing the supply-demand picture in oil, and they're saying, 'Aha, there's a slowdown in the global economy because no one's consuming oil.' And I think that's wrong."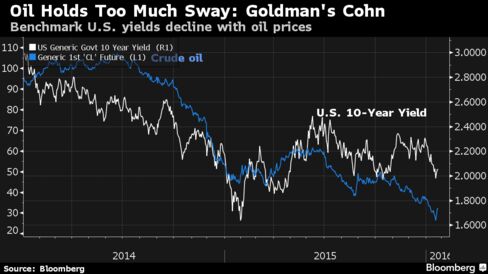 Morgan Stanley anticipates economic data will "underperform expectations."
Around the start of 2015, with the 10-year yield at about 1.9 percent, Goldman Sachs and Morgan Stanley both predicted a jump to 2.85 percent by the close of the year. The yield ended December at 2.27 percent.
The Fed will probably hold interest rates unchanged and say it's monitoring volatility in financial markets, said Hiroki Shimazu, the senior market economist in Tokyo at SMBC Nikko Securities Inc.
U.S. economic data this week will show consumer confidence held unchanged in January, growth in new home sales slowed in December, durable goods orders fell last month and economic expansion ebbed in the fourth quarter, based on Bloomberg surveys of analysts. The latest employment report showed the world's largest economy added 292,000 jobs in December, versus an average of 214,000 for the preceding 11 months.
Ten-year yields will rise to 3 percent by the end of March, Nikko's Shimazu said. A Bloomberg survey, where the most recent forecasts are given the heaviest weightings, indicates the figure will be 2.35 percent.
"Volatility in the financial markets will have little influence on the real U.S. economy," Shimazu said. "The U.S. labor market is in really good shape."
Before it's here, it's on the Bloomberg Terminal.
LEARN MORE