Deutsche Bank: Chinese Stocks Are More Distressed Than During the Financial Crisis
Investors are pricing in a crisis.
With concerns about a hard landing in China playing the starring role in the risk-off environment that has dominated 2016 so far, it's no surprise that equities in the world's second-largest economy have fared particularly poorly.
In local-currency terms, the Shanghai Composite is down almost 17 percent this year, far underperforming the MSCI World Index's 7.5 percent retreat.
"At the current distressed valuations in the H-share market, we think investors may have priced in meaningful probability of a hard-landing scenario in China and/or sizable renminbi depreciation," wrote Deutsche Bank Chief China Equity Strategist Yuliang Chang, referring to stocks listed on the Hong Kong Stock Exchange.
Valuations are extremely depressed, he noted, observing that the MSCI China's 12-month forward price-to-book ratio, excluding American Depositary Receipts, currently sits at one times book—meaning investors are valuing the companies at just the stated sum of their assets.
That's a lower valuation than it was during the financial crisis in October 2008, the European sovereign debt crisis in October 2011, or China's interbank crunch of June 2013.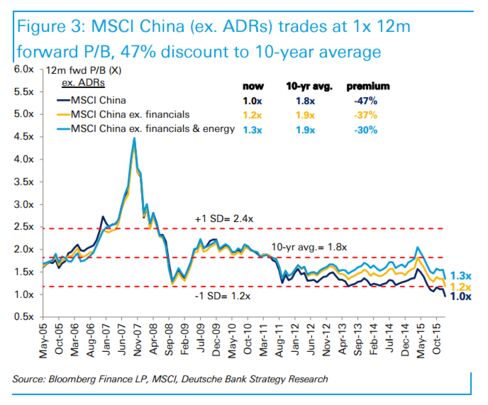 The depressed price-to-book multiple also speaks to investor uncertainty as to whether the value of assets on Corporate China's balance sheets are accurate amid a softening economic backdrop, relatively opaque accounting practices, and a rise in nonperforming loans. The forward price-to-earnings multiple, meanwhile, is markedly lower than that of the MSCI Emerging Markets, MSCI Asia Pacific ex. Japan, and S&P 500-stock indexes.
Institutional investors are also largely eschewing Chinese equities, Chang found, while dedicated funds are overweight in defensive sectors. Chinese stocks are also technically oversold, the strategist pointed out, citing an elevated level of expected volatility and short-selling activity.
Putting all this together, the conclusion is inescapable: Chinese stocks are especially out of favor at the moment.
"We don't think a hard landing is very likely in the near term, and against current depressed market expectations as implied by distressed valuations, we see scope for upside surprise," the strategist concluded.
Before it's here, it's on the Bloomberg Terminal.
LEARN MORE