China Stock Chartist Sees Shanghai Composite Retreating to 2,400
Schroeder says recent rally just setting stage for more losses

Yuan and H-shares are also vulnerable amid commodity selloff
Thomas Schroeder, the chartist who predicted in October that a rebound in Chinese stocks wouldn't last, is sticking to a call that the selloff has further to go.
The Shanghai Composite Index will drop to 2,400, according to Schroeder. Any bounce will likely be short-lived as the moving average convergence-divergence line, a measure of momentum, is trending lower, he said. A two-day rally in the Shanghai gauge through Monday was just setting the stage for further declines, according to Schroeder. The equity index plunged 6.4 percent to 2,749.79 on Tuesday.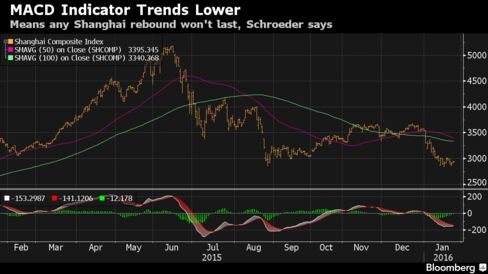 "There's more pain ahead," said Schroeder, the Bangkok-based founder and managing director of Chart Partners Group Ltd. "There's still some final stages of weakness that we have to go through in the next quarter or two."
The Shanghai Composite slid into a bear market on Jan. 15 for the second time in seven months, while the Hang Seng China Enterprises Index of mainland shares traded in Hong Kong has tumbled 15 percent this year. Chinese policy makers are fighting to stem capital outflows and further currency weakness, with the resulting financial-market volatility heightening concern that the nation's deepest economic slowdown since 1990 will worsen.
After Schroeder said in October that the Shanghai gauge would rebound to as high as 4,100 and then tumble to 2,400, the measure rose to a December peak of 3,651.77 before resuming declines. The rally was short-lived due to a renewed slump in commodities, according to Schroeder.
Schroeder predicted in August that the Chinese equity rout will worsen, with the Shanghai Composite probably sliding below 3,100 within two months. The measure dropped to an intraday low of 2,850.71 on Aug. 26.
Tom DeMark, another chart watcher who correctly predicted the selloff in China's equity market last year, now expects the Shanghai Composite to fall to within a range of between 2,500 and 2,600 before bottoming.
"We still have yet to see capitulation," Schroeder said. "The Chinese yuan, Shanghai Composite and Hong Kong H-shares are weak."
Before it's here, it's on the Bloomberg Terminal.
LEARN MORE