Sanchez Must Fend Off Party Sharks for Podemos Pact in Spain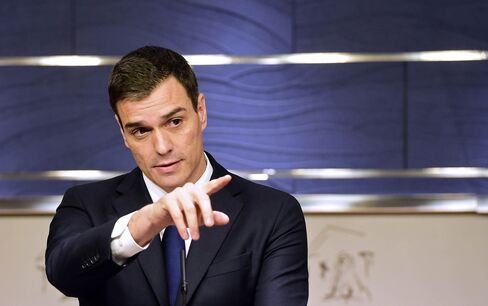 Socialist chief starts talks with Podemos on deal to govern

Party rivals resist alliance with progressive challenger
The route to a government in Spain is becoming clearer, though it remains littered with obstacles.
Socialist leader Pedro Sanchez and his would-be deputy prime minister, Podemos's Pablo Iglesias, officially broached the issue of forming an alliance for the first time on Sunday night as the chances of Mariano Rajoy's People's Party clinging on to power receded.
"A plural and progressive government is possible in Spain," Iglesias wrote in El Pais Monday. "On Sunday I spoke with Sanchez and I hope, with all my heart, that he allows himself to measure up to it."
With populism on the rise across the developed world, the political future of the euro area's fourth-largest economy comes down to whether Sanchez, 43, can reach a deal with the anti-austerity group. While the Socialist leader says that's his goal, there is distrust on both sides and senior party officials are pressurizing their leader to avoid the potentially lethal embrace of Podemos.
Spanish stocks fell, with the benchmark Ibex index dropping 0.7 percent at 9:54 a.m. in Madrid, the same as the Stoxx Europe 600. Government bonds were little changed, with Spain's 10-year debt yielding 125 basis points more than similarly dated German paper.
Topsy-Turvy World
By the mixed-up logic of Spanish politics more than six years after the debt crisis struck, Sanchez is both the leading candidate to become prime minister, and also vulnerable to a potential coup by party rivals after posting the worst election result in his party's history last month.
"The people circling Sanchez can smell blood in the water," Jose Ignacio Torreblanca, head of the Madrid office of the European Council on Foreign Relations, said in a telephone interview. "A Socialist-Podemos alliance is very short in terms of numbers and unstable due to the strong electoral outlook of Podemos."
The two parties have 159 lawmakers of 350 in parliament, 17 short of a majority, so they'd need either pro-market Ciudadanos or a group of smaller parties including Catalan nationalist groups to abstain to let them win a confidence vote and pass legislation.
"The main objective of the Socialist Party is to see a change in Spain," Meritxell Batet, the Socialists' director of policy, said in an interview on Television Espanola Monday "We are convinced that we can lead a change for the better."
King Felipe will begin a second round of talks with party leaders on Wednesday after Rajoy declined his invitation to try and win a confidence vote last week. For Sanchez, the biggest test may come next Saturday when he faces a meeting of his party's federal committee. At that session, his internal opponents may try to set limits on, or even block, an alliance with Podemos.
"Given the resistance within the Socialists to cut a deal with Podemos, it will be extremely hard for Sanchez to form a government," Antonio Barroso, a political analyst at Teneo Intelligence in London, said in a note to clients Saturday. "The Socialists' next move will be key to determine the chances of a PSOE-Podemos administration."
Greek Fates
Hanging over the negotiations is the shadow of Greece, where Iglesias's ally Alexis Tsipras almost forced his country out of the euro after winning power a year ago. While consolidating his grip on his country, Tsipras has decimated the Greek Socialists, Pasok, who like their Spanish counterparts had been part of the political establishment for decades.
Socialists were in power in both Spain and Greece when the European debt crisis erupted in 2009 and Sanchez's party has so far managed to avoid Pasok's electoral wipeout. The Greek Socialists won just 6.3 percent of the vote when Tsipras consolidated his power in September.
Sunday's 20-minute conversation was the first time Sanchez and Iglesias had spoken since Podemos upended the orderly process of negotiations Friday by offering to back a government led by the Socialists.
Sanchez expressed his irritation with the way 37-year-old Iglesias sprang the offer on him and said the two parties need to agree on a policy program before they can discuss who gets which job, according to a press officer for Podemos. If they fail to reach a deal, the country's probably headed for another election.
Flexible on Catalonia
Errejon was asked if there were any policies Podemos wasn't prepared to give up in the negotiations with Sanchez in Sunday night's interview. He cited four measures to help the most vulnerable Spaniards, including a ban on evicting families from their homes without lining up alternative accommodation. He said Podemos is still in favor of a referendum on independence in Catalonia, but is open to considering alternatives.
While the Socialists are the second biggest party in parliament, Sanchez has failed to stop the steady hemorrhaging of support that has cost the party more than half its votes since 2008. Polls suggest they would be displaced by Podemos as the biggest party on the left if there was another election now.
"We have no fear of going to fresh elections, but it wouldn't be a good thing," Errejon said on Sunday night. "The people have already voted and they want us to find a solution on the basis of those results."
Before it's here, it's on the Bloomberg Terminal.
LEARN MORE