Portuguese Voters Head to Polls to Pick Country's President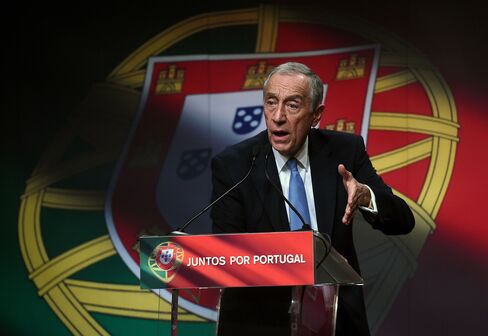 Social Democrat Rebelo de Sousa leads polls of 10 candidates

Portuguese prime ministers set policy, not presidents
Portuguese voters are casting their ballots on Sunday to pick the country's next president, with former Social Democrat leader Marcelo Rebelo de Sousa ahead in the most recent opinion polls.
Voting began at 8 a.m. and ends at 7 p.m. in mainland Portugal. Partial results and exit polls will be released from 8 p.m. Voter turnout reached 38 percent at 4 p.m., compared with 35 percent at the same time when the country held the last presidential election in January 2011, according to a government website.
The latest opinion polls published by broadcaster RTP and by newspapers Expresso, Jornal de Negocios and Publico indicated Rebelo de Sousa, 67, may take more than half of the vote. That means the law professor and television commentator could become president without having to face a second round. Antonio Sampaio da Novoa, who is backed by some Socialists, had as much as 22.6 percent support in the Jornal survey.
In Portugal, the prime minister and his government set policy. The president represents the country, though he also has the power to appoint the premier and dissolve parliament. Outgoing President Anibal Cavaco Silva, a Social Democrat like Rebelo de Sousa, served two straight five-year terms after winning more than 50 percent of the vote in the first round of both elections. Ten candidates are running for the office.
Socialist Prime Minister Antonio Costa was sworn in at the end of November and his minority government plans to reverse state salary cuts and bolster family incomes, easing austerity measures faster than the previous Social Democrat-led administration proposed. Costa's government presented its 2016 budget plan on Thursday, setting a narrower deficit target and forecasting that growth will accelerate.
"The government is doing what it should do, which is to continue on the path of reducing the deficit," Rebelo de Sousa told television station SIC Noticias on Friday in Barcelos, northern Portugal, during the last day of campaigning.
Before it's here, it's on the Bloomberg Terminal.
LEARN MORE