'No Crisis' Norway Holds Talks on Economic Cost of Oil's Plunge
Finance minister says prepared to act fast if needed

PM Solberg says Norway economy overall is not in a crisis
Norway is not in a perilous enough state to warrant extraordinary measures on top of the record budget stimulus already in place.
That was the conclusion after Norway's prime minister, finance minister and central bank governor held an extraordinary meeting to assess just how bad the deepening plunge in the price of oil will be for the economy of western Europe's biggest petroleum producer.
"Right now the economic policies that we presented in our October budget are working," Finance Minister Siv Jensen said in an interview after a press conference in Oslo. "What we have said today is that we are prepared to act if needed."
Policy makers are sticking to a strategy of avoiding using the word crisis to describe the state of the economy, saying that stabilizers such as the weakening krone, lower interest rates and record fiscal stimulus are kicking in to pick up the slack. Yet they have lately acknowledged that the nation's oil industry is in a crisis and that the almost 30,000 jobs now lost won't all come back.
For some economists, that stance is becoming untenable as oil continues its swoon and unemployment surges in Norway's oil-belt along its western coast.
"They need to admit now that the situation has become critical and that downside risks have intensified," said Marius Gonsholt Hov, a senior economist at Svenska Handelsbanken in Oslo. "They have to have some kind of emergency package in a situation like this."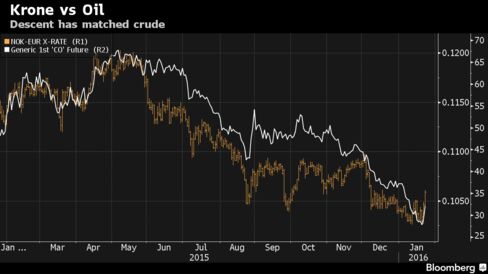 Prime Minister Erna Solberg said that the situation was now "critical" for the oil hubs on the west coast, even as she emphasized that there was no need now to reconsider its fiscal policies in full. Norway is prepared to meet the challenges ahead, she said.
The economy is being helped by its weak currency, which is down about 13 percent from a high against the euro last year, to withstand a plunge in the price of oil. The country gets about one-fifth of its economic output from the petroleum industry. The price for the benchmark Brent oil blend reached a 12-year low of $27.10 last week, compared with a 2014 high of $115. It traded at $31.45 as 1:59 p.m. in Oslo.
The government is spending a record amount of its oil wealth this year to stimulate growth and is even dipping into its massive sovereign wealth fund for the first time.
Solberg said that withdrawals from the fund don't necessarily need to be permanent, given the "cyclical" nature of the oil business.
"We could very well come back to a situation where we get net contributions in," she said in an interview after the press conference.
The central bank has said it stands ready to lower interest rates further, after last year halving its benchmark to 0.75 percent. Central bank Governor Oeystein Olsen told news agency NTB on Monday that the picture for the economy is largely the same as it was at the end of last year.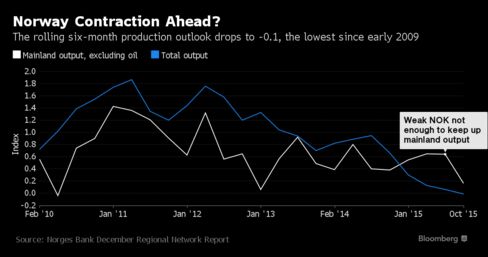 "This government has said for a long time that Norway is in need for a long-term restructuring where we are not as dependent on oil as we have been in years past," Jensen said. "That view still holds today, we have been working toward this for some time now. We knew this was going to be a challenge."
Before it's here, it's on the Bloomberg Terminal.
LEARN MORE