U.S., GCC See No Future for Syria If Terror 'Magnet' Assad Stays
U.S. under no illusion of obstacles for peace in Syria

U.S. to stand by Gulf nations against any external threats
The U.S. and six-nation Gulf Cooperation Council said they see no future for Syria if President Bashar al-Assad remains in power as he is a "magnet" for terror in the region.
"None of us are under any illusions that obstacles still exist for reaching peace in Syria," U.S. Secretary of State John Kerry told reporters in Riyadh on Saturday after meeting foreign affairs ministers from GCC countries including Kuwait, Qatar, Saudi Arabia and the United Arab Emirates. "War in Syria cannot end because he is the magnet that attracts the violent terrorism and jihadis who will continue to come as long as his supporters continue to say he's part of the future."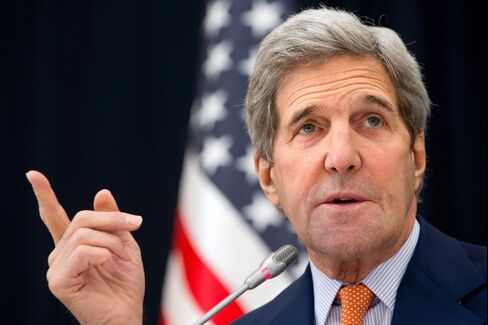 The emergence of Islamic State and the growing involvement of regional powers have added to the complexity of the conflict in Syria. The sectarian struggle between mostly Shiite Iran and predominantly Sunni Saudi Arabia has helped fuel the war, while Assad is also backed by Russia. The war has left more than 250,000 people dead and displaced half of the country's population.
Talks between the Syrian government and opposition leaders scheduled for Jan. 25 have been postponed for "a few days," Saudi-owned al-Hayat reported, citing an e-mail from United Nations Special Envoy for Syria Staffan de Mistura. The delay may enable a "better start" to the talks, which are aimed at ending Syria's five-year civil war, the London-based newspaper quoted De Mistura as saying.
The U.S., Russia and other nations have agreed on a timetable to form a transitional government in Syria within six months and hold elections within a year and a half. Russia has made progress in weakening U.S. opposition to Assad standing for re-election, according to Russian and Western diplomats. While the U.S. still says Assad can't lead Syria over the long-term, the Obama administration has backed away from insisting that he go at the start of a transition process.
Saudi Foreign Affairs Minister Adel Al-Jubeir told reporters on Saturday that Saudi Arabia works with its "American friends" on exchanging intelligence to help remove Assad. Kerry added that the U.S. will stand by the GCC against any external threat.
John Kerry and Russian foreign minister Sergei Lavrov "confirmed the support of efforts of United Nations Special Envoy for Syria Staffan de Mistura to organize Geneva talks next week between representatives of the Syrian govt and opposition groups aiming at political settlement," after speaking on the phone Jan. 23, according to a statement on the website of Russia's Foreign Affairs Ministry.
The two also discussed respecting the right of Syrian people to define the future of their country.
Before it's here, it's on the Bloomberg Terminal.
LEARN MORE