Bond Traders Tell Fed Optimism on Growth, Inflation Is Misplaced
Yield gap between two-, 10-year notes reaches lowest since '08

`For the Fed to move even one time, the bar is very high'
The bond market is sending the Federal Reserve some ominous signals on the economy and inflation as officials gather next week to debate the path of interest rates.
The difference between yields on Treasury two-year notes, which are more sensitive to central-bank policy, and 10-year securities, which reflect longer-term economic expectations, narrowed this week to the least since 2008. Investors say the gauge, known as the yield curve, signals the Fed is too optimistic in its outlook for growth and inflation. While policy makers forecast four interest-rate increases in 2016, bond traders are pricing in only one.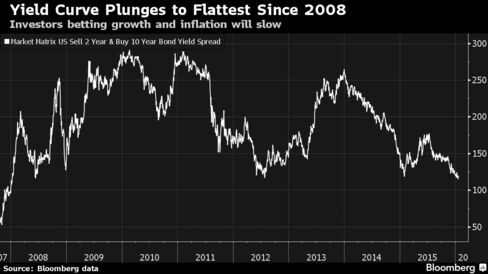 Bond investors are questioning the Fed's ability to raise rates amid the depreciation of China's currency and volatility in equities and oil prices. The probability of a U.S. recession in the next 12 months jumped to the highest level since 2013, according to a Bloomberg survey this month. The bond market's five-year estimate for inflation beginning five years from now, a model used by the Fed in setting rates, fell to a record-low 1.53 percent on Jan. 15. Policy makers meet Jan. 26-27.
"The curve can continue to flatten," said Mark MacQueen, co-founder of Sage Advisory Services Ltd., which manages $12 billion in Austin, Texas. "It's definitely telling you the expectations for the economic outlook in the U.S. is meager growth and low inflation. As low as 10-year rates appear to the investors, they are quite high compared to the rest of the world. Any crisis is met with demand for fixed income."
Yields Slide
The 10-year note yield rose two basis points, or 0.02 percentage point, last week to 2.05 percent as of 5 p.m. New York time Friday, the first increase in three weeks, according to Bloomberg Bond Trader data. The price on the 2.25 percent security due in November 2025 fell about 5/32, or $1.56 per $1,000 face amount, to 101 24/32. The yield is 1.57 percentage points higher than that on German debt of comparable maturity.
The difference between U.S. two-year and 10-year yields dropped to 1.14 percentage points on Jan. 20, the lowest since 2008, before rebounding to 1.18 percentage points on Friday. Two-year note yields rose two basis points last week to 0.87 percent Friday after reaching 0.80 percent on Jan. 20, the lowest in more than two months.
Traders have been caught off guard this year as yields across the curve have dropped, with longer maturities leading the declines. The consensus forecast following the Fed's Dec. 16 liftoff from near zero was for 10-year yields to climb to 2.75 percent by the end of 2016. That prediction is looking too ambitious less than one month into the new year, forcing Wall Street banks to revise estimates.
'High' Bar
Deutsche Bank AG predicts the 10-year yield will end the year at 1.75 percent, down from the 2.25 percent call it made in December, while JPMorgan Chase & Co. says 10-year notes will yield 2.45 percent at year-end, down from a previous forecast of 2.75 percent.
Hedge funds and other large speculators had the biggest net short position on two-year notes since September 2014 in the week ended Jan. 19, according to Commodity Futures Trading Commission data released Jan. 22. A short position profits from a rise in yields.
Billionaire investor George Soros said on Bloomberg Television this week that he'd be "very surprised" if the Fed raised interest rates again, and that he's bullish on government debt. He said a slowdown in the Chinese economy is contributing to global deflation.
Futures traders assign about a 24 percent chance that the Fed will boost borrowing costs in March, based on the assumption that the effective fed funds rate will trade at the middle of the new target range after the next increase. That implied probability rose as high as 53 percent on Dec. 30.
"For the Fed to move even one time, the bar is very high right now," said David Rosenberg, chief economist and strategist in Toronto at Gluskin Sheff & Associates Inc. "Everybody right now is in panic mode."