Watch Out for Those Falling, Oil-Soaked Angels
About $155 billion worth of energy bonds could be downgraded.
"Our focus article addresses this risk by digging deeper on the potential for commodity credits to be downgraded if current depressed prices persist for the next 18-24 months," Barclays credit analysts Jeffrey Meli and Bradley Rogoff wrote in a note published late last night.
"Today, Moody's Investors Service has placed the ratings of 120 oil and gas companies on review for downgrade," analysts at the rating agency said hours later.
The threat of fallen angels—or bonds that were once rated investment grade but have since come plummeting down to junk territory—is not a new one, but it does seem to be gathering momentum as the price of oil remains stuck in the doldrums.
The worry here is that a wave of downgrades of energy-related companies could end up boosting the size of the high-yield market, putting further pressure on prices and also forcing some investors to reevaluate their holdings at precisely their most vulnerable time.
The bad news is Barclays expects an extra $155 billion worth of high-yield supply to enter the market over the next couple of years should oil prices remain at current levels. That would be more than the downgrade volume experienced in 2002 and 2005, two previous bad years for credit. The good news, should you choose to look at it this way, is that the enlarged $155 billion figure would be equivalent to "just" 12 percent of the total high-yield market—because of a sharp rise in the amount of junk bonds outstanding.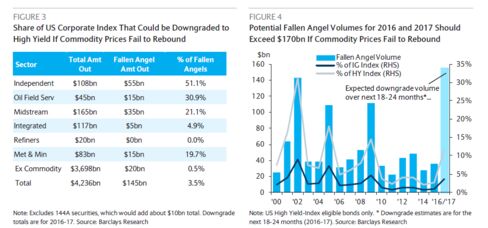 Still, there are second-order effects to consider from the seraphic slump—namely, the technical impact on the all-important bond indexes as well as on investor portfolios. Large asset managers mandated to buy investment-grade debt will most likely not enjoy finding themselves suddenly holding junk-rated assets. Meanwhile, high-yield investors may not appreciate the influx of erstwhile investment-grade into their benchmarks (nor will the bonds necessarily prove suitable for their portfolios, either).
According to the Barclays analysts, previous fallen angels in 2002 and 2005 underperformed the wider market by 20 percent to 25 percent prior to being downgraded—and didn't do much to catch up after the fact. Given that energy bonds have already posted excess returns of negative 13 percent over the past eight months or so, that would equate to another 10 percent to 15 percent drop, the analysts add.
Moreover, the impact on bond indexes would be pronounced, eliminating some 35 basis points of return from the Barclays U.S. Corporate Index (vs, the 190 bps currently).

"The sharp increase in amount outstanding, combined with the fund outflows the asset class has experienced over the past year, could drive technical selling pressure in high-yield," the Barclays analysts conclude. "Ultimately, we believe that this means that the correlation between energy and the broader high-yield market is likely to remain high. In the near to medium term, it remains to be seen when or if the two markets may de-link."
Speaking of which—here, for what it's worth, is the new oil forecast from Moody's.

Brent crude is currently trading at $31.25 a barrel, after dipping as low as $27.88 earlier this week.
Before it's here, it's on the Bloomberg Terminal.
LEARN MORE