Russian Ruble Rides Oil's Surge to Biggest Gain in 13 Months
Central banker's signal on volatility caps turbulent week

Rout excessive, ruble seen at 73/$ in three months, UBS says
The ruble surged from a record low, riding oil's biggest gain in five months to end a turbulent week that prompted the central bank to signal it stands ready to rein in the widest currency swings in emerging markets.
Russia's currency jumped 5 percent to 78.3900 per dollar as of 7:50 p.m. in Moscow, the biggest gain in 13 months, as Brent crude advanced 7.6 percent. Five-year government bonds climbed for the first time in three days.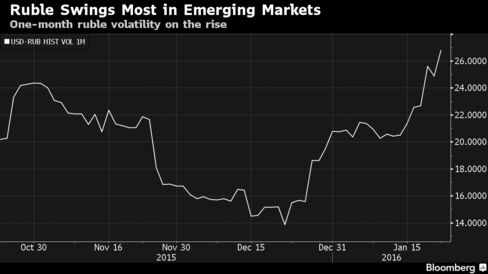 The ruble has endured a volatile month, the most among emerging-markets peers after oil prices sank to a 12-year low. Bank of Russia Governor Elvira Nabiullina said on Friday she doesn't want to allow fluctuations in the ruble exchange rate to increase.
"After putting up with the ruble for a while, traders finally lost it this week and started selling," said Oleg Popov, a money manager at Moscow-based April Capital. "Nabiullina's comment about volatility is a common truth for any central bank, otherwise it's impossible to plan monetary policy."
Friday's gains pared losses for the week to 1.2 percent from a decline of more than 4 percent on Thursday. The currency, which has declined 6.6 percent this month and touched a record intraday low of 85.999 per dollar on Thursday, has been pummeled more than any emerging market this year as an oil supply glut and concern about the economic slowdown in China drove crude prices down 17 percent.
Budget Cuts
The Finance Ministry is weighing budget cuts and the government is due to announce a revamped anti-crisis plan next week as Russia's recession drags on. Almost 50 percent of the nation's revenue comes from the oil and gas industries.
The nation's chief monetary policymaker may have compounded the selling when she unsettled the market two days ago by saying the ruble is trading close to its "fundamental levels. " Interventions weren't required unless risks to financial stability arose, she said in an interview, adding that she saw no such threat.
Nabiullina reversed course, first canceling a trip to the annual Davos meeting of the World Economic Forum in Switzerland and then stating to reporters on Friday that the central bank has the tools to act "pro-actively."
Oil's Plunge
Popov said the policy maker "didn't think through" her original comment on not intervening in the market as the stance only "added fuel to the ruble selloff." Ultimately, the ruble trading remains tied to oil's price and "the key factor was the unexpected and sharp drop in the price of oil."
The dollar-denominated RTS stock index surged 9.4 percent and the local-currency Micex Index added 2.4 percent, led by gains for oil producer Lukoil PJSC and Sberbank PJSC, the nation's largest lender.
Ruble bonds pared losses for the week with the yield on five-year debt falling 28 basis points on Friday to 10.67 percent.
UBS Wealth Management is undeterred by the ruble's plunge and sees the currency recovering to 73 per dollar in the next three months, according to Emerging-Markets Chief Investment Officer Jorge Mariscal.
"It's a combination of the ruble having perhaps gone a little too far and our constructive view on oil in the medium term," Mariscal said by phone from New York. "Those are very interesting returns against the U.S. dollar if they materialize."
Before it's here, it's on the Bloomberg Terminal.
LEARN MORE