Podemos Ready to Back Socialist-Led Government for Spain
Party leader Iglesias aims to be deputy prime minister

Iglesias says he will target economy, social issues first
Podemos leader Pablo Iglesias told Spain's King Felipe VI he will support a new Socialist government alongside another anti-austerity group, the United Left.
Spain can't afford to wait to form a new government in place of acting Prime Minister Mariano Rajoy's People's Party, Iglesias said after a meeting the king Friday. Socialist leader Pedro Sanchez should lead the government and the Podemos leader should be deputy prime minister, Iglesias said.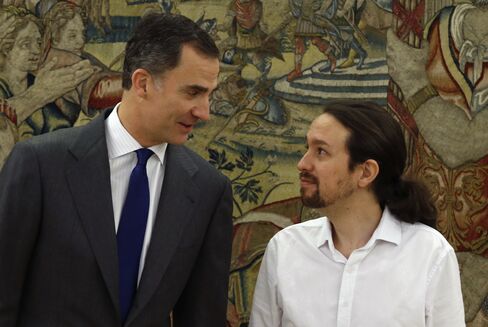 Podemos's proposal signals a way out of Spain's political impasse and throws the onus onto Sanchez who was meeting the king himself as Iglesias made his announcement. Iglesias set out his proposal to the king without warning the Socialists, who've been maneuvering for Rajoy to face a confidence vote in parliament before they start their own efforts to govern.
"Spain doesn't have to wait for Rajoy," Iglesias said. "I am ready to get to work."
Spanish government bonds rose on Friday. The extra yield investors demand to hold the country's 10-year paper instead of similarly dated German bunds dropping 8 basis points to 120 basis points at 1:20 p.m. in Madrid.
Investments on Hold
While European Central Bank bond purchases have muted the impact of Spain's political standoff on the government-bond market so far, political uncertainty is reaching other parts of the economy where the central bank's measures have less direct influence.
"While the bond market remains calm, international investors in the real economy are much more cautious," said Jose A. Zarzalejos, a director at PricewaterhouseCoopers's corporate finance unit in Spain. "A lot of our merger and acquisitions pipeline is in a wait-and-see mode as clients want to see what the rules of the game look like under the new government."
Spain's December election produced the most divided parliament in the country's history. The PP won the most seats, with 123 of the 350 lawmakers, but with no natural allies in the chamber, Rajoy is struggling to muster the support he needs to stay in office.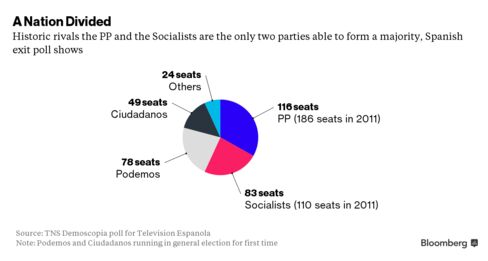 Sanchez, who finished second with 90 seats, says Rajoy should get the first crack at forming a government but has ruled out supporting his traditional ally. Without the Socialists or the 69 Podemos lawmakers, it's almost impossible for Rajoy to get through since Catalan nationalists have also signaled their opposition.
Pressurizing Sanchez
Iglesias said he's planning to speak to Sanchez and United Left leader Alberto Garzon later Friday. Rajoy is due to meet the head of state at 5 p.m. Madrid time.
Podemos's gambit is "clearly designed to force the Socialists to come into the open and say whether they support this or that they don't accept it," said Angel Talavera, an analyst at Oxford Economics in London. "It's kind of a win-win situation for
Iglesias -- if they're part of the government that's a great result for them and
if it goes to new elections they will expect to do well."
Iglesias, a political science professor from Madrid's Complutense University, said cabinet positions should be allocated in proportion to the number of seats obtained in the December's election and called for the creation of a new ministry to promote Spain's multiple national identities -- a nod to separatists in Catalonia or the Basque Country.
Surrounded by high-profile members of Podemos, including no. 2 Inigo Errejon, Iglesias hinted Podemos should also run the ministries of justice, defense, interior and foreign relations.
"We decided to take the lead and take a step forward," he said. "This is no time for half-baked proposals. Either you're in favor of change, or you're with those who want to block it."
Before it's here, it's on the Bloomberg Terminal.
LEARN MORE