Morgan Stanley Leads Bank Bond Sales in Weakest Start Since 2012
Corporate bond sales in the U.S. from financial institutions are on track for their weakest January since 2012, despite more than $10 billion in deals on Friday from Morgan Stanley, Wells Fargo & Co. and Royal Bank of Canada.
Morgan Stanley, which this week reported profit and revenue that exceeded analysts' estimates, sold $5.5 billion of bonds in a three-part offering that is the biggest deal from a financial institution so far this month, according to data compiled by Bloomberg. In addition, Wells Fargo issued $3.5 billion in debt, while Royal Bank of Canada raised $1.5 billion.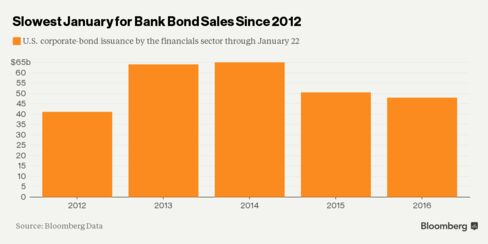 "Banks really like to come out en masse in January," said Arnold Kakuda, a bank credit research analyst at Bloomberg Intelligence. "But unfortunately the beginning of this year has gotten off to a very volatile start. Uncharacteristically, you've had this Friday be very busy because it's an opening and we've had some stability."
After a week of turmoil in financial markets, a global rally in equities and surging oil prices have somewhat eased investors' concerns and encouraged issuers to take advantage of any signs of strength.
The largest part of Morgan Stanley's sale was $3 billion in 3.875 percent notes due 2026 that yield 1.85 percentage points more than government debt, Bloomberg data show. Wells Fargo's deal included a $1.5 billion two-year note that yields 0.8 percentage point more than similar-maturity Treasuries. Royal Bank of Canada issued $1.5 billion of 10-year subordinated notes at 2.625 percentage points above benchmark securities.
'Peak Time'
Recent weakness in financial markets has caused some big banks to hold off on issuing senior debt, according to Pri de Silva, a U.S. banking analyst at CreditSights Inc. JPMorgan Chase & Co., the bank that issued the most debt in January 2015, had already sold bonds by this time last year, Bloomberg data show.
"For banks, January is the peak time to issue debt, but because of market conditions we haven't seen that come to fruition this year," de Silva said. "The volatility in the markets is causing banks to take a step back from issuing debt."
If the tone of the market remains stable, banks like JPMorgan and Goldman Sachs Group Inc. may issue debt as well, according to Kakuda.
"We haven't seen JPMorgan or Goldman Sachs with a bond deal this year," Kakuda said. "Last year, in January, they did."
Before it's here, it's on the Bloomberg Terminal.
LEARN MORE