Strange Trades Are Happening in Global Markets
Six charts show how strange trading has gotten this year

Two dozen countries' companies now worth less than assets
Have the global financial markets lost their collective mind?
Last week saw the value of Hong Kong's benchmark stock market briefly dip below how much its member companies' assets are worth. Foreign exchange traders are punishing currencies even in countries with improving economies, and Russia's ruble has fallen so far that it's a third more undervalued than the last time the country's oil was as cheap as now.
And that's not all, as shown by the below six charts.
While Hong Kong's Hang Seng Index recovered enough to be worth about the same as its members' assets, gaining 4.8 percent in the past two trading days, the price-to-book ratios of about two dozen other country benchmarks are now below that threshold, compared with 15 five years ago.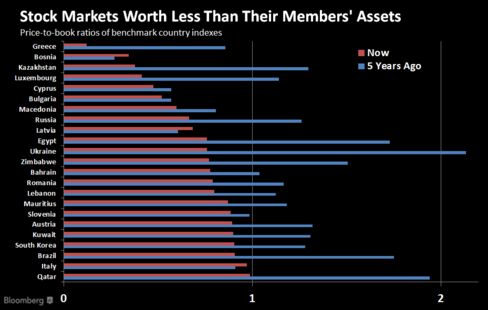 Russia's currency has taken one of the world's biggest beatings so far this year. By one crude-but-fun measure, the ruble is almost always considered undervalued, but now it's worse than usual.
Big Mac Purchasing Power Parity is based on a survey by The Economist that determines what a country's exchange rate would have to be for the premier burger from McDonald's there to cost the same as in the U.S. The measure gives an impression of how overvalued or undervalued a currency is.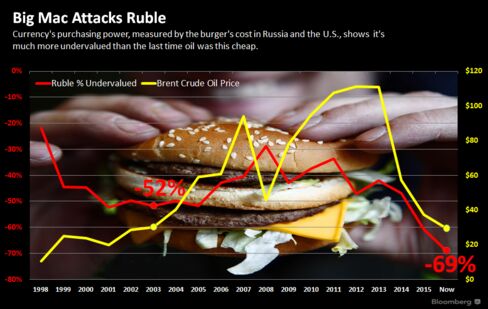 U.S. stocks haven't been immune to this month's worldwide drubbing. Even with last week's recovery in the Standard & Poor's 500 Index, the fall since the year started ranks as one of the worst three weeks in recent decades. The result: Some members are worth less than businesses with no revenue, for example Ultragenyx Pharmaceutical Inc., one of the largest such companies in the Nasdaq Composite Index.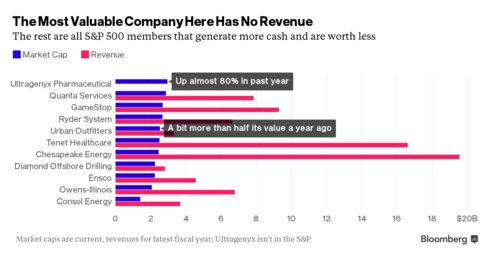 Now take a look at the global government bond market. The flight to the perceived safety of sovereign debt has driven up prices for these securities, pushing yields down to the point where more than ever are negative. That means investors buying those securities today would lose money if they held them until maturity.
Of course, nobody actually buys less-than-zero bonds with plans to hold on to them that long. But still.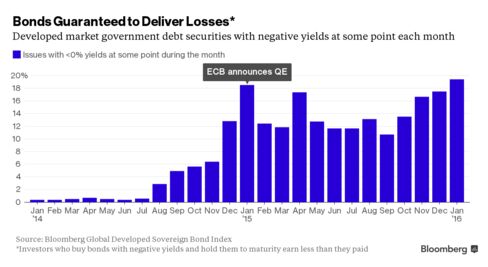 Next, consider the flip-flop the futures market has taken on where the Federal Reserve is heading with borrowing costs.
As recently as Dec. 29, traders were pricing in a 58 percent probability that the Fed funds rate, now between 0.25 percent and 0.5 percent, would be in the 0.75-to-1.25 percent range by the end of 2016. There was just a 1-in-4 chance it would be where it is now or a tad higher.
Less than four weeks later, the lower-rate scenario's has a better than 2-in-3 chance. The higher-rate odds are below 1-in-3.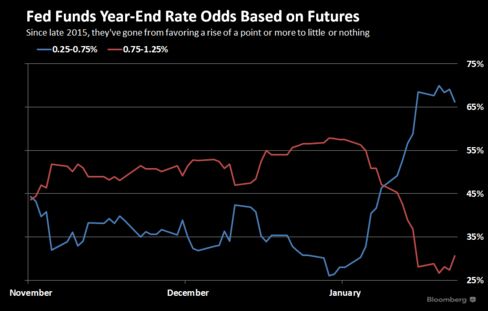 Finally, there are the foreign-exchange markets. Look at how many developing-nation currencies are down year-to-date even as their economies are seen improving in 2016.
Before it's here, it's on the Bloomberg Terminal.
LEARN MORE