Embattled `Abenomics' Minister Buys Time Amid Graft Allegations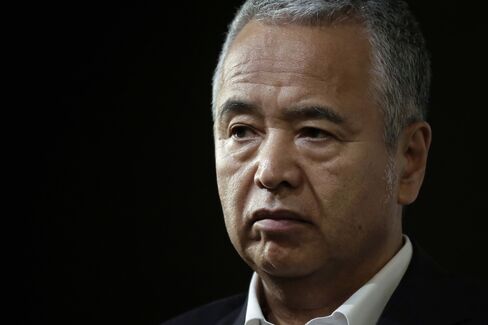 Amari to give explanation in a week `after checking memory'

Economy Minister set to fly to Davos on Saturday as planned
Japanese Economy Minister Akira Amari, a key architect of the government's "Abenomics" policies, sought Friday to buy time to defend himself against graft allegations in a tabloid magazine.
"I should be able to give an explanation within a week after checking my memory," Amari told reporters in Tokyo. He said that parts of the article, published in the weekly Shukan Bunshun magazine Thursday, didn't correlate with his memory, adding that he hadn't done anything against the law.
The article says that Amari and his secretary took money from an unidentified Chiba prefecture-based construction company in an alleged violation of a political funding law. The payments amounted to 12 million yen ($102,000), the magazine said, adding that there are no details of them in Amari's political funding record.
Amari, Japan's point man in talks on the Trans-Pacific Partnership trade -- a U.S.-led regional trade pact -- and spearhead of Prime Minister Shinzo Abe's growth strategy to boost the nation's competitiveness, is set to travel to Switzerland on Saturday to attend the World Economic Forum in Davos. The allegations come at a critical time for Abe as he grapples with a strengthening yen and stocks sliding into a bear market ahead of elections this summer.
Opposition Attacks
Lawmakers in main opposition Democratic Party of Japan have created a team to investigate the allegations and challenge Amari in parliament. Both Abe and Amari's planned speeches to parliament were delayed Friday as opposition lawmakers sought an explanation on the graft issue.
The scandal could also delay debate on the fiscal 2016 discussion, and prevent its passage before the financial year starts in April -- a scenario that may force Amari to step down, according to political analyst Hirotada Asakawa.
"If Amari resigns, Abe would lose a unifying force within the ruling Liberal Democratic Party," Asakawa said. "Dovish members of the LDP, who haven't criticized Abe strongly until now, will start to criticize Abe."
Amari on Friday apologized for the commotion over the magazine report. He said he hadn't discussed his position with the prime minister, adding that Abe had urged him to provide a thorough explanation of the issue, and devote himself to his duties.
Koichi Hagiuda, Japan's deputy chief cabinet secretary, told reporters Friday that the government wanted to report on the allegations by Jan. 28.
Negative for Abe
Since taking office in December 2012, Abe has lost three ministers -- including two female Cabinet members on the same day in October 2014 -- following allegations of impropriety. None were ever charged with a crime.
Abe was able to brush off the setback of that double resignation to win by a landslide in the December 2014 general election. Even so, a series of scandal-linked resignations contributed to the unraveling of his first administration in 2007 after less than a year.
Should he end up stepping down, Amari would be the most influential minister to leave Abe's cabinet.
"While a resignation would be negative for Abe's LDP, there's no alternative party to take power," said Hiroaki Muto, chief economist at Tokai Tokyo Research Center Co. in Tokyo. "There's no way the LDP will lose elections this summer, but the party may lose seats."
Before it's here, it's on the Bloomberg Terminal.
LEARN MORE