Brazil's Central Bank U-Turn Isn't New. It Didn't Work Before.
Surging breakeven rates show traders see faster inflation

Central Bank's surprise decision evoked memory of 2011 move
The surprise interest-rate decision in Brazil this week has many traders crying out: Been there, done that. And it didn't work.
The central bank's move to hold the rate steady at 14.25 percent in the face of surging consumer prices -- just 10 days after its President Alexandre Tombini vowed to do what's needed to bring the rate back to target -- startled economists, most of whom had forecast a hike. That caused the market's inflation expectations to jump to the highest in at least three years.
For long-time Brazil watchers, it evoked a similar move in August 2011 that many point to as the genesis of today's unwieldy consumer prices. Back then, as the government embarked on a drive to control above-target inflation through regulated prices, the top monetary authority surprised investors with an unexpected cut. It was the start of a 13-month easing cycle that would eventually see the rate lowered to a record 7.25 percent.
"Starting in 2011, the easing cycle went beyond what the economy could take," said Leonardo Monoli, a partner at Jive Asset Gestao de Recursos in Sao Paulo. "From that point on, the government started managing the country on a day-to-day basis, instead of thinking more structurally or about the future. There were several specific measures that created problems that were then solved by creating even more problems. That's how we got here."
Markets weren't happy then, and they're not happy now. The real, already the big loser of 2015 among the world's top currencies, tumbled 1.4 percent on Thursday as it approached its record low. It echoed a similar plunge the day after the August 2011 decision. The two-year break-even rate, a measure of bond traders' expectations for inflation through 2018, rose 0.3 percentage point to 10.66 percent, data compiled by Bloomberg show.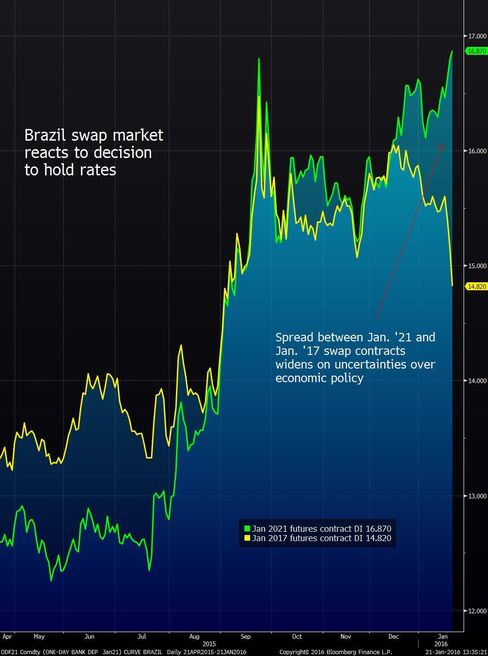 After the rate decision, Goldman Sachs Group Inc. joined Barclays Plc in warning that a new round of easing might not be so far off, a move that for the orthodox economist may seem unthinkable as annual inflation nears 11 percent. It's already more than twice the 4.5 percent mid-point of the central bank's target range.
"I wouldn't be surprised if the central bank starts talking about cutting the Selic rate," Alberto Ramos, Goldman Sachs senior economist, said from New York.
Swap rates on contracts maturing April, which incorporate traders' expectations for the next rate decision on March 2, tumbled 0.26 percentage point to 14.26 percent on Thursday. They are down 0.44 percentage point this week.
To be fair, the economy is facing some pretty severe headwinds that could, with the benefit of hindsight, someday prove policy makers were being prudent rather than capricious. Brazil's economy is forecast to shrink 2.8 percent this year after an estimated 3.7 percent contraction in 2015, according to economists surveyed by Bloomberg. And the outlook for growth in China, Brazil's biggest trading partner, is weighing on economies and markets globally.
But the problem that many investors cited -- and what the market was ultimately reacting to -- was the lack of clarity over what the central bank's priority is: growth or inflation.
Just two weeks ago, Tombini sent an open letter to the finance minister reiterating his commitment to battle rising consumer prices. "The central bank will adopt the measures needed to meet the target" by the end of 2017, Tombini wrote. But on Tuesday, in an unusual statement from the central bank just as the monetary council's two-day policy meeting was getting started, Tombini sent a conflicting signal when he said an International Monetary Fund forecast for a deeper recession would influence the group's decision.
Holding the rate steady "flies in the face of the hawkish inflation report and Tombini's open letter explaining to the finance minister why the central bank massively exceeded the top of the inflation target band," John Welch, a strategist at CIBC World Markets, said from Toronto. "The decision will further delay the convergence of inflation back to the central bank's target and maintain price dynamics in a dangerous territory."
Key to investors' concern is that the sudden change in Tombini's tone smacks of political interference, said Paulo Vieira da Cunha, the chief economist at Ice Canyon in New York and a former international-relations director at Brazil's central bank.
"There were reasons to keep rates where they were, as long as the central bank's communications explicitly framed the fiscal root of the deterioration in expectations," he said from New York.
The central bank's press office declined to comment.
Adding to investor concern is that the easing cycle that started in 2011 didn't work, said Jive's Monoli. Economic growth slowed to 1.9 percent the following year from 3.9 percent in 2011, data compiled by Bloomberg show.
"The difference between today and that time was the financial health of the country," he said. "We are in a much worse economic situation now, in stagflation and under fiscal dominance. Without fixing the fiscal problem, this won't work."
Before it's here, it's on the Bloomberg Terminal.
LEARN MORE