United, Southwest, Alaska Profits Rise as Fuel Costs Drop
Boeing wins orders for aircraft from United, Southwest

Strong dollar discourages travel in international markets
Fourth-quarter profits climbed at United, Southwest and Alaska airlines as a dramatic drop in fuel prices and strong domestic demand offset the effects of lower fares.
"It looks good for the U.S. airlines, it really does," said Adam Hackel, an analyst at Sterne Agee CRT.
The healthy U.S. travel and lower fuel costs for airlines should help outweigh the effects of weak economies abroad that have hurt international travel, particularly in markets socked by the plunge in oil prices.
Airlines were able to raise prices by $3 for a one-way domestic ticket earlier this month, Hackel said Thursday. "It suggests demand is strong."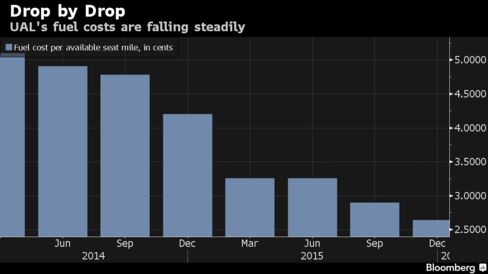 United Continental Holdings Inc. rose less than 1 percent to $45.33 at the close in New York, while Alaska Air Group Inc. advanced 8.1 percent. Southwest Airlines Co. was little changed.
United and Southwest took advantage of the windfall from lower fuel costs to add to their fleets. United will buy 40 Boeing Co. 737-700s, while Southwest will acquire 33 Boeing 737-800s as it speeds the retirement of its oldest planes and converts 25 remaining -700 orders to -800s, the carriers said Thursday.
Passenger Revenue
United took a bigger hit to sales than some airlines did last quarter. Passenger revenue for each seat flown a mile fell 6 percent as demand softened because of the Paris terrorist attacks, the strong dollar and economic weakness in cities dependent on the energy industry.
The airline reported profit that missed the average analysts' estimate by 2 cents a share, according to data compiled by Bloomberg. Southwest topped estimates by a penny, while Alaska's profit beat by 5 cents.
"What's concerning to us is the oil sector, frankly," Hackel said. "Ten percent of their business runs out of Houston. With oil under $30 now, we're concerned about that part of the business for United."
The airline's fourth-quarter profit, excluding some items, doubled to $934 million, or $2.54 a share, from a year earlier. Sales fell 3 percent to $9.04 billion.
Munoz Comments
Chief Executive Officer Oscar Munoz, who's been on medical leave since suffering a heart attack in October, made an appearance on a Thursday morning conference call with analysts. He had a heart transplant on Jan. 6 and expects to return to work by the end of this quarter, "if not sooner," he said.
"I'm pleased to report that I feel great," Munoz told analysts. "My recovery is progressing very nicely. Already this week -- in fact, over the course of the last month -- I've begun to participate in meetings and certainly plan to increase my involvement each week going forward."
Southwest flew more passengers longer distances in the quarter as it expanded in international markets and at its Dallas home base. Only about 1.5 percent of Southwest's capacity is outside the U.S., protecting it from the currency issues that affect other carriers.
"They continue to generate a significant amount of cash," said Logan Purk, an Edward Jones & Co. analyst.
Earnings excluding some items were $591 million, or 90 cents a share, compared with the 89-cent average of analysts' estimates compiled by Bloomberg. Sales rose to $4.98 billion, just missing the $5 billion estimate.
While Southwest benefited from lower fuel costs, contracts that lock in some rates in advance mean it paid 52 cents a gallon above the spot market, the company said. The airline has reduced so-called hedging for the second half of this year to cover 30 percent to 35 percent of its fuel use, down from as much as 70 percent previously, Chief Financial Officer Tammy Romo said on a conference call with analysts.
Alaska's Costs
Alaska's adjusted profit rose to $186 million, or $1.46 a share, beating analysts' estimate of $1.41. Sales rose 5.4 percent to $1.38 billion.
Fuel costs -- the airline's second-largest expense, behind labor -- dropped 30 percent and passenger traffic rose 12 percent. The company increased its quarterly dividend 38 percent.
Before it's here, it's on the Bloomberg Terminal.
LEARN MORE