Touchvie: Shop Movies and TV Shows While You Watch
Ever wonder where to buy a House of Cards power suit? There's an app for that.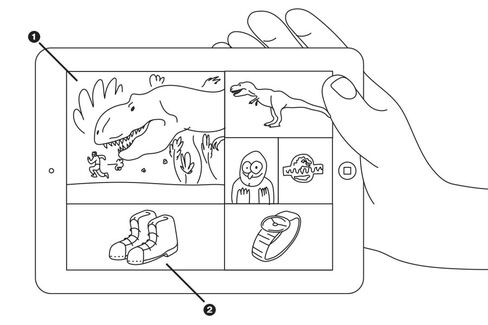 Innovator: José Luis Flórez
Age: 42
Co-founder and chief executive officer of Touchvie, a 65-employee startup in Madrid
Form and function
Touchvie's app identifies actors, objects, and other details in movies and TV shows, from a shirt's brand to a beach's location, as you watch. It provides relevant info as things pop up—where to buy the shirt, how to book the trip.
Origin
In 2014, Flórez founded Touchvie with three veterans of his previous data analytics startup, Neo Metrics Analytics, bought by consulting firm Accenture in 2012.
1. Setup
For any movie or show that the artificial-intelligence software has indexed, the app recognizes a given scene using the microphone in the user's phone. A viewer can also type in the title.
2. Purchase
Along with a scroll of info on each item in the scene, the app has a "buy" button that links more than 10 million items to one or more of Touchvie's dozen retail partners, including Alibaba.
Selection
Touchvie, launched in November, has indexed about 1,000 movies (Star Wars, Jurassic World, Fifty Shades of Grey) and 10 TV shows (The Big Bang Theory, House of Cards).
Revenue
The company gets 7 percent to 15 percent of each sale it refers.
Funding
Touchvie has received about €2 million ($2.2 million) in government funds and €2 million from friends and family.
Next Steps
Santos González, a math professor who heads the advanced analytics program at the University of Oviedo in northern Spain, ranks Flórez among the world's foremost data scientists and says Touchvie is "advancing the future of watching movies and TV." Flórez says there'll be an English version of the Spanish-language app in the U.S. and Europe by April. He says Touchvie is indexing 12 to 15 movies a day and will have more than 6,000 cataloged by yearend.
Before it's here, it's on the Bloomberg Terminal.
LEARN MORE