Top Malaysia Small-Cap Stock Sees Record Profit; Eyes China
Stock gained 218 percent in past 12 months on ringgit slump

SLP to boost overseas markets as sales dwindle at home
SLP Resources Bhd., Malaysia's best performing small-cap stock, predicts another year of record profit as a slumping ringgit boosts sales and the Chinese government's easing of population curbs opens a new market for its packaging products.
The maker of plastic bags and films used in the food, industrial, chemical and medical sectors plans to boost production capacity by 60 percent to prepare for more overseas orders as it seeks to enter the world's second-biggest economy this year, managing director Kelvin Khaw Seang Chuan said in a phone interview.
"We are putting our focus to improve export sales further and doing a lot less business in Malaysia because of economic headwinds," he said from Kulim, Kedah state, on Wednesday. "No doubt there is a slowdown in China, but our business potential is in tandem with population and growth. With the two-child policy, there will be a huge potential."
The company, which counts Japan as its biggest overseas market, is stepping up its export drive to sustain record earnings after its nine-month profit ended September more than doubled. The ringgit's slump to a 17-year low in 2015 is helping to boost the value of sales, which are mostly in dollars. The stock has jumped 218 percent in 12 months and is up 15 percent this year, the best performer on the 165-member FTSE Bursa Malaysia Small Cap Index. The shares retreated 4.6 percent at the close on Thursday.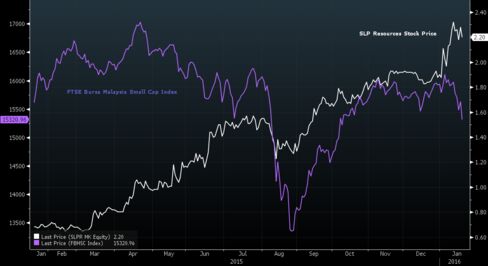 The company's net income surged 148 percent to 20.3 million ringgit for the nine-month period ended September. It is slated to announce its 2015 results by end-February. The ringgit has tumbled 18 percent in the past year amid domestic political turmoil, falling oil prices and a selloff in emerging-market assets.
SLP's stock performance is a bright spot for Malaysian stocks which have held their own amid the rout in developing-nation assets that has sent countries such as mainland China, Indonesia, Thailand and the Philippines into bear markets.
The FTSE Bursa Malaysia KLCI Index has fallen 7.5 percent in the past year, compared with declines of more than 14 percent for indexes in Thailand, Indonesia, Philippines and India.
Record Year
"2015 is going to be a record year, and if these factors remain unchanged, it will be another record year for 2016," Khaw said. "The ringgit is trading choppy, and the company is happy if we can hedge this exposure as we don't know how long the ringgit would remain weak."
To be sure, the stock's rally may have outpaced its profit potential. Its peers Thong Guan Industries Bhd. and Scientex Bhd., have also jumped at least 42 percent in the past 12 months, prompting Kenanga Investment Bank Bhd. earlier this month to cut its sector rating to neutral from overweight, citing limited upside prospects. SLP is valued at 15.8 times its 12-month projected earnings, compared to 9.9 for the small-cap measure.
The company is seeking to enter China by the third quarter of this year and also plans to expand its production capacity to 38,000 tons by 2018 from the current 24,000 tons, to prepare for rising demand. Its total share of domestic sales fell to 40 percent in 2015 from 54 percent in 2014, he said.
China has allowed all couples to have two children starting this year, replacing the country's "one-child policy."
"There will be potential for the packaging business with China's two-child policy, and with the country transforming itself into a consumption-based economy, and population growth," said Khaw.
Before it's here, it's on the Bloomberg Terminal.
LEARN MORE