Activists suggest takeover or REIT to `unlock value'

Retailer's 1986 buyout ended up with 1992 bankruptcy filing
It all sounds so 1980s: Donald Trump is in the headlines, the stock market is in trouble -- and Wall Street is wondering if Macy's Inc. is up for grabs.
Thirty years after the department-store chain was taken private in a $3.6 billion leveraged buyout, activist investors are betting Macy's will once again be a takeover target.
Not everyone is on board.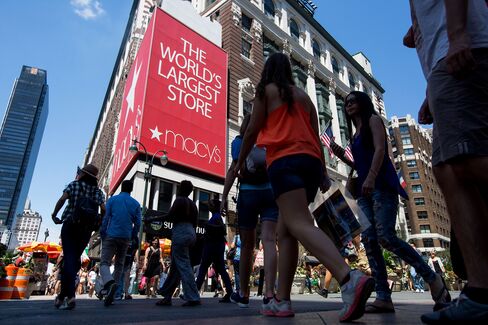 "You've got really smart, good people running the company who have always been on the same side as the shareholders, and you've got the activists," said Lawrence Haverty, a fund manager at Gamco Investors Inc. in Rye, New York, which owns shares of Macy's. "The record of activists in the retail industry is not great."
It's spotty, to be sure. In some of the more grievous examples, Bill Ackman's Pershing Square Capital Management exited its position as J.C. Penney Co.'s largest investor in 2013 after a public spat with the board. Last year, Ethan Allen Interiors Inc. shareholders rejected all six directors nominated by hedge fund Sandell Asset Management Corp., rebuffing Sandell's effort to create a real estate investment trust.
And Macy's 1986 buyout? By 1992, the retailer was filing for Chapter 11 bankruptcy protection.
The prospect of a white knight galloping down from the hills to take over and restore the company to its glory days gained credence this week with the revelation that hedge-fund manager David Einhorn had bought a piece of the retailer at least partly due to the possibility of a buyout.
Unlock Value
Einhorn suggested a private equity firm might team up with a REIT to "unlock value." With that proposal, Einhorn puts his shoulder behind the same wheel that Jeffrey Smith, a shareholder who runs the hedge fund Starboard Value, has been pushing for months -- that Macy's ought to split off its properties into a REIT to which the retailer's stores would pay rent. Einhorn's Greenlight Capital declined to comment. Starboard didn't respond to a request for comment.
The suggestion box is stuffed full as Macy's struggles to boost sales and clear inventories that piled up during a warm holiday season. The chain's same-store sales, a key benchmark, fell 4.7 percent in November and December, worse than the retailer had expected. Macy's isn't alone. For all of 2015, U.S. retail sales grew 2.1 percent, the smallest increase since 2009, the Commerce Department said.
"Everything went wrong for Macy's last year, everything's going wrong for Macy's and its competitors now," said Burt Flickinger of Strategic Resource Group, a New York-based consulting firm.
Slash Jobs
That's sparked talk of a possible buyout. But the details -- including who might buy the chain and what they'd do that current management hasn't already tried -- are missing from the discussion.
A takeover of Macy's, with a market capitalization of $12.5 billion, would require buyers to take on a significant amount of debt, a likelihood that's fading as credit markets become increasingly strained.
Carlyle Group and Symantec Corp. are lowering the price of the biggest buyout of 2015, for Symantec's Veritas data-storage unit, because banks are getting reluctant to lend money to companies with troubled balance sheets. And lenders backing Sycamore Partners' acquisition of retailer Belk Inc. are said to be offering deep discounts on the debt.
Macy's Chief Executive Officer Terry Lundgren has said that the retailer will slash jobs and close 40 stores this year as a cost-cutting move to placate shareholders. Lundgren declined to comment.
Macy's said in November that it had decided against a REIT. Instead, the company is considering partnerships in its flagship Manhattan, San Francisco, Chicago and Minneapolis stores, as well as some mall-based properties. Tishman Speyer Properties, owner of New York's Rockefeller Center, is interested in taking stakes in the locations, Macy's said. The company is searching for a real estate executive who could oversee the effort, including any partnerships or joint ventures.
Trendy REITs
Haverty said he would support an offer to buy the company for $60 a share in cash -- about a 50 percent premium -- but doubted such a deal would happen. He said it was a longshot that activists could prevail in a proxy fight because there are too many long-term shareholders willing to give the management team "a lot of rope."
As for creating a REIT, it's become trendy among retailers, but it's still untested. Sears Holdings Corp. has spun off its real estate, which now trades higher than its parent company. Bob Evans Farms Inc. and Darden Restaurants Inc., which runs the Olive Garden chain, also spun off properties. Even McDonald's, which generates billions in profit from the rent it charges franchisees, has felt pressure from hedge-fund investors to form a REIT.
Smith has said that Macy's has $21 billion worth of real estate, a number that sounds as thrilling as the white knight swooping down and saving the department-store chain.
Flagship Properties
A lot of that value is concentrated in a few flagship stores and the best mall properties, said D.J. Busch, senior research analyst at Green Street Advisors, a REIT research firm in Newport Beach, California.
"A Macy's flagship property will hold and potentially increase in value," Flickinger said.
Busch is more skeptical. It's not easy to say how much the flagships stores are worth, he said, and their value proposition changes with no sure long-term occupant, he said.
"That's why Macy's pauses," Busch said. "They want to be able to control their own destiny, and when you sign a lease you're giving that away."
More likely than a buyout or a REIT, Macy's will meet the activists in the middle -- trying to monetize the stores that hold the most value, said Laurent Vasilescu, an analyst at Macquarie Capital USA. At the same time, the company could continue to accelerate the rate it closes underperforming stores.
The retailer is nothing if not resilient, said Diane Price Baker, who was Macy's chief financial officer during its 1992 bankruptcy. When New York City called her that year to make sure the Macy's Thanksgiving Day Parade would still take place, she thought of a way to make creditors happy. They would help her hold the balloon ropes of Clifford, the big red dog of children's books and TV series.
"Of course we had the parade," Baker said. "I had creditors walk it."
Before it's here, it's on the Bloomberg Terminal.
LEARN MORE