Homebuilder for Brazil's Poor Gains as Recession Hurts Peers
MRV sees fewer cancellations than rivals coping with slowdown

Analysts project additional 11 percent share rise in next year
MRV is proving to be a bright spot in Brazil's dismal homebuilder market as it benefits from a government program designed to help low-income residents buy their first house.
Shares of MRV Engenharia & Participacoes SA, which specializes in housing for the poor, have surged 15 percent in the past year, compared with losses of 22 percent for the country's benchmark gauge of real estate companies. Analysts forecast the stock will jump an additional 11 percent over the next year, defying the pessimism that's settled over Brazil's equity market amid predictions for the country's longest and deepest recession in more than a century.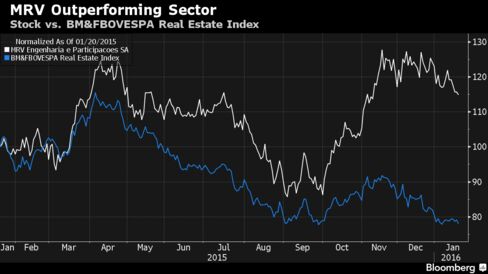 MRV is avoiding the worst of the country's woes as demand has slowed less among those who benefit from the government's My House, My Life housing program for the poor. While builders that cater to wealthier Brazilians have seen a deeper slowdown in demand amid the recession, 10.7 percent inflation and rising unemployment, MRV expects to fewer sales cancellations, according to Co-Chief Executive Officer Eduardo Fischer.
"With strong exposure to the housing programs of the federal government, we believe that this company is well positioned, with diversified operations, including many places where they have no direct competition, and a very solid operation, with performance above the industry average," Banco do Brasil analysts led by Daniel Cobucci wrote in a note to clients Wednesday. The shares are one of their top picks for the sector.
'Better Place'
The demand for low-income housing is still growing faster than what the market can supply, Fischer said. While last year was difficult, credit lines to the customers MRV caters to haven't dried up, he said. The builder changed its sales process in 2014, transferring the responsibility for financing to banks. That's helped slow cancellations, according to Fischer.
"Considering the economic situation, we're in a much better place than our competitors," Fischer said in an interview in Sao Paulo.
The company's cancellation rate was at 30 percent in the third quarter and will further drop in the fourth quarter and in 2016, says Fischer. Fitch Ratings projects a scenario with 35 percent cancellations for the whole sector in 2016, according to a Dec. 22 report.
Last year was one that Brazilian real estate companies would like to forget as the economic and political crises led to record-low consumer confidence and the highest unemployment rate in at least three years. Still, even as the economy probably shrank 3.6 percent, with the fastest inflation in 12 years, MRV's contracted sales retreated more slowly than those of some industry peers amid what Banco do Brasil analysts called "more resilient demand."
With the economy forecast to fall 3 percent this year, analysts are betting MRV's near monopoly of the low-income market will allow it to continue to outperform its peers.
Before it's here, it's on the Bloomberg Terminal.
LEARN MORE