Hey Hedge Fund Managers, You Should Have Started a Mortgage REIT
An index of mortgage REITs plunged almost 20 percent last year

Executives get paid based on company size, not performance
Executives who run mortgage real estate investment trusts have it good.
Many probably don't need to worry about losing their jobs, closing their funds or taking a pay cut, even after a terrible 2015, when a Bloomberg index of 41 companies plunged almost 20 percent. Including reinvested dividends, the firms lost about 10 percent collectively.
Mortgage-REIT executives are uniquely positioned when their firms fall on hard times. Unlike at hedge funds and other firms where managers' pay is tied to performance, most mortgage-REIT executives are compensated based on the size of their publicly traded companies, and receive a percentage of total shareholder equity whether they win or lose. Several macro hedge funds announced shutdowns last year, including one run by Fortress Investment Group LLC after losses of more than 17 percent. But mortgage REITs such as Five Oaks Investment Corp. and Javelin Mortgage Investment Corp. -- which lost more than 40 percent and 29 percent, respectively, in 2015 -- are carrying on without any announced plans to liquidate.
"With the mortgage REITs, the management fees are permanent capital," said Steven Delaney, an analyst with JMP Securities LLC. "In a hedge fund, if your performance is subpar, you will suffer redemptions and at some point you can't cover your overhead."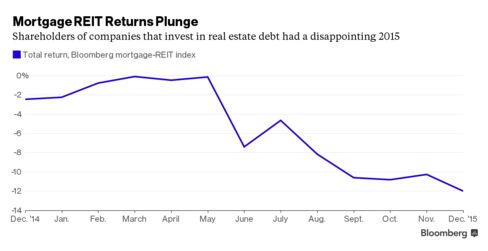 David Oston, chief financial officer of Five Oaks, declined to comment. Javelin didn't respond to e-mail and telephone requests for comment.
Mortgage REITs are essentially leveraged bond or loan funds that invest in real estate debt, making them more similar to money managers than to standard REITs, which own properties such as shopping malls, office towers or apartment buildings. Mortgage REITs use short-term financing to buy commercial and residential mortgage securities, then add borrowed money -- typically about three to nine times the amount of their own capital -- to boost returns. Like other REITs, they must pay out at least 90 percent of their taxable earnings to shareholders as dividends, and, in exchange, don't have to pay federal income taxes on those earnings.
Same Fee
Management fees for mortgage REITs are typically about 1.25 percent to 1.5 percent of total shareholder equity. Executives are generally paid the same fee whether the value of their assets go up or down. The REITs are publicly traded, but are usually externally managed. Because the separate company running the REIT is closely held, the amount paid to each of the executives doesn't have to be disclosed.
Hedge fund managers get paid roughly 2 percent of assets under management and about 20 percent of profits. If they suffer an annual loss, the managers don't get paid a performance fee until they reach the high-water mark, or the point where they recoup all the money they lost.
Conflicting Incentives
The way mortgage REITs are structured is "at the very least a conflict of interest," said Bose George, an analyst at Keefe, Bruyette & Woods Inc. If managers buy back stock when it's trading at a discount to book value, that increases shareholder value, but they're shrinking the size of the company and, in turn, their paychecks.
At their peak in 2013, mortgage REITs held $400 billion of assets after more than tripling their holdings of government-backed home-loan bonds since 2009. The companies grew so large that the International Monetary Fund, the U.S. Financial Stability Oversight Council and Jeremy Stein, a Federal Reserve governor at the time, warned that they posed risks to the markets.
Returns of about 19 percent in 2014 and dividends of more than 10 percent lured retail investors to the companies. Last year, they tumbled because of turmoil in the bond markets and anticipation that the Federal Reserve would raise interest rates. Many mortgage-REIT stocks are now trading at a 60 or 70 percent discount to their book values, or the net values of their holdings, according to Delaney of JMP Securities.
'Suffering' Shareholders
"Within the industry there are four or five companies that came to the market too small and weren't properly capitalized," he said, adding that firms including Five Oaks, Javelin and Cherry Hill Mortgage Investment Corp. are largely unable to attract institutional investors. "Shareholders are suffering."
Javelin and Anworth Mortgage Asset Corp. have already been targeted by activist investors -- Javelin twice in less than two years -- who have pushed for stock repurchases to increase shareholder value and threatened to overthrow management and liquidate the firms.
"We hold the view that management cannot deliver value through continued operations," Wolverine Asset Management LLC wrote in a Dec. 15 letter to Javelin's board of directors. Javelin has a "consistent record of underperformance" and "a fee structure that is in direct conflict with shareholder interests," the Chicago-based investment firm said in the letter.
Fees Cut
The day before Wolverine published its letter, Javelin announced it was reducing its management fees, effective until further notice. The firm would charge 1.5 percent of current shareholder equity rather than a higher rate calculated from 1.5 percent of all equity raised, regardless of any subsequent losses. The REIT also reduced the fees it pays board members by $340,000 a year and approved the ability to buy back as many as 2 million shares of common stock.
Representatives for Anworth and Cherry Hill didn't respond to requests for comment.
Only a few mortgage REITs, including American Capital Agency Corp. and Anworth, have been repurchasing shares in recent months, resulting in less compensation for managers.
"These are essentially like externally managed funds," said George of Keefe, Bruyette & Woods. "From the manager's perspective, keeping the size of the fund stable is obviously the goal."
Possible Sale
Zais Financial Corp. is the exception. Chief Executive Officer Michael Szymanski said on the company's third-quarter earnings call that Zais was starting to evaluate strategic alternatives including a possible sale or liquidation of the company.
Some investors looking at the smaller, struggling companies say now may be the time to buy.
"Mortgage REITs are attractive trading at big discounts," said Ron Mass, who runs Almitas Capital and oversaw as much as $90 billion of fixed-income investments at Western Asset Management Co., which he left in 2012. "Overall, the sector is the cheapest it's been since since the financial crisis. It's a market where a lot of investors get in for the dividends but don't understand the management structure and incentives."
Tax Impact
Unwinding mortgage REITs can also be complicated, according to analysts who cover the companies. To liquidate, the REIT has to pay taxes on any realized gains. And most of the firms have a termination fee, so if the external manager is fired, it gets, on average, two to three years of annual management fees. Shareholders may end up getting only about 80 to 90 percent of book value.
The unique structure of REITs and protections for their managers give the companies more options than hedge funds or small banks when they fall on difficult times, allowing the firms to stick around for longer, said Delaney of JMP.
"If they survive for two years and things get better," he said, "maybe they get an opportunity for another turn of growth and a recovery story."
Before it's here, it's on the Bloomberg Terminal.
LEARN MORE