ECB Leaves Rates Unchanged as Oil Threatens Inflation Outlook
Main refinancing, marginal and deposit rates at record lows

Draghi will hold press conference at 2:30 p.m. in Frankfurt
The European Central Bank left its key interest rates unchanged as investors wait for President Mario Draghi to explain how officials intend to respond to a slump in oil prices that's depressing euro-area inflation.
The 25-member Governing Council, meeting in Frankfurt on Thursday, kept the main refinancing rate at 0.05 percent, the deposit rate at minus 0.3 percent and the marginal rate at 0.3 percent. None of the economists in a Bloomberg survey predicted any rate changes. Draghi will hold a press conference at 2:30 p.m. local time to explain the decision.
Follow Bloomberg's ECB blog, or watch Draghi's press conference on LIVE
Investors will monitor Draghi's words for hints that the ECB is gearing up for fresh stimulus. Oil's crash, amid a Chinese economic slowdown that's throwing international markets into turmoil, has raised concern that record-low rates and a 1.5 trillion-euro ($1.6 trillion) bond-buying program may not be enough bring inflation back to just under 2 percent from current levels near zero.
No Limit
"Inflation is likely to dip back into negative territory over the next few months," Nick Kounis, head of macro research at ABN Amro Bank NV in Amsterdam, said before the decision. "The Governing Council hasn't been able to react decisively to events over recent months due to splits in opinion about whether action is necessary and/or what policy measures to take. So it seems likely that the ECB will need more time to assess, form a consensus and decide what to do."
The ECB president has shown a readiness to act if needed, saying in New York on Dec. 4 that "there cannot be any limit to how far we are willing to deploy our instruments" within the mandate. Those comments came a day after the central bank's last monetary-policy meeting, when a deposit-rate cut and an extension to the bond-buying program disappointed investors.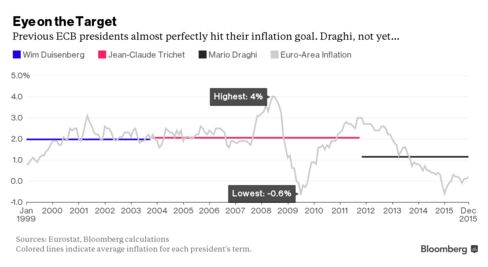 The ECB's account of that meeting published last week showed diverging opinions among officials about the right policy path. Some governors opposed all new stimulus, some wanted even more aggressive action, and some leaned toward a bigger cut in the deposit rate rather than more asset purchases.
The immediate problem is oil, with Brent crude down more than 25 percent this month to a 12-year low. That means the ECB's December forecasts that saw inflation accelerating to an average of 1.6 percent in 2017 are probably already out of date.
When the ECB made its projections, it assumed the cost of Brent would rise from an average $54 a barrel in 2015 to roughly $58 a barrel next year. Crude is currently trading at about $28 a barrel.
It's "really extraordinary that we had this huge decline of the oil price, and that of course has an effect on the inflation rate," ECB Governing Council member Ewald Nowotny said on Wednesday.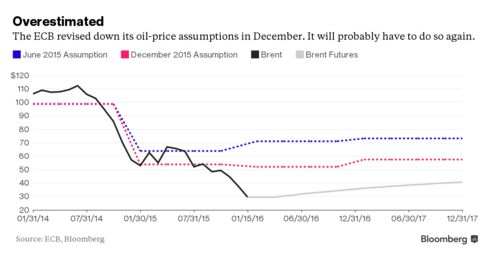 The situation is complicated by the euro area's struggle to deal with bad loans and the potential fallout from China. While Nowotny said this week that turbulence in China's stock market is a "psychological phenomenon" without a deeper economic impact, his colleague Ilmars Rimsevics warned that "people are a bit too relaxed" about how serious the impact on trade might be.
China is going through "massive transitions," International Monetary Fund Managing Director Christine Lagarde told a panel at the World Economic Forum on Thursday in Davos, Switzerland. While "all those changes are perfectly manageable if the right policies are taken," more communication on the balance of payments and the exchange rate "would serve that transition better," she said.
Ultimately, the overriding concern for the ECB may be closer to home -- its own credibility. The central bank's remit requires it to return inflation to its goal, a point Draghi will almost certainly reiterate on Thursday.
"They can't afford any mistakes," said Frederik Ducrozet, an economist at Banque Pictet & Cie SA in Geneva. "Their concern is that in the current environment of secular stagnation and low growth, inflation will become stuck at near zero, and for this reason they have a bias for being dovish."
Before it's here, it's on the Bloomberg Terminal.
LEARN MORE