Deutsche Bank Drops as Investment Bank Revenue Concerns Mount
Rates trading probably didn't offset other declines, UBS says

Deutsche Bank sees quarterly loss on legal, overhaul charges
Deutsche Bank AG, which runs Europe's largest investment bank, slumped the most in five months in Frankfurt trading after saying the securities unit drove a decline in fourth-quarter revenue, casting doubt on the company's ability to meet profit targets.
The shares fell 8.6 percent to 16.20 euros as of 10:57 a.m. in Frankfurt, the biggest drop in the 46-member Stoxx Europe 600 Banks Index. Deutsche Bank's 28 percent slide this year means it's the worst-valued global bank. The Frankfurt-based lender late on Wednesday said it expects to post a 2.1 billion-euro ($2.3 billion) loss for the fourth quarter after setting aside more money for litigation and restructuring.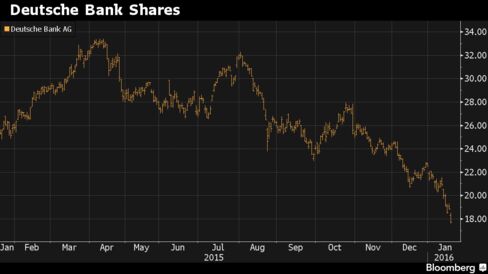 Deutsche Bank co-Chief Executive Officer John Cryan has pledged to lift profitability and capital levels by shrinking parts of the firm's debt-trading business and selling Deutsche Postbank AG, a German consumer lender. While the last three months of the year are typically the weakest for investment banks, Deutsche Bank's performance in the quarter marks a setback for investors gauging its prospects of earning enough to fund the overhaul and provide attractive returns.
"Underlying quarterly performance, in particular the top line, has been the one real positive" in past quarters, analysts at Mediobanca SpA wrote in a report. "With this rug pulled from beneath them, and further hurdles in the delay of the Postbank sale, tight capital and litigation, we struggle to see Deutsche Bank building any credibility, at least in the short-term" that it can reach its profitability goal.
'Challenging Market'
"Challenging market conditions" hurt earnings at the investment bank unit, cutting group revenue to about 6.6 billion euros, Deutsche Bank said. The investment bank accounted for 38 percent of Deutsche Bank's 7.8 billion euros of net revenue in the fourth quarter, company filings show.
Analysts at Barclays Plc had expected revenue at the investment bank to fall 15 percent in the quarter from a year earlier, they said in a report.
The five biggest U.S. securities firms saw their combined revenue from investment banking and trading fall 4.9 percent to $24.2 billion in the fourth quarter from a year earlier, data compiled by Bloomberg show.
Deutsche Bank's revenue decline was "somewhat unexpected" given it stood to benefit from a stronger U.S. dollar and that U.S. banks had reported gains in rates trading, an "area of strength" for the German bank, Goldman Sachs Group Inc. analysts wrote in a note to clients.
Litigation Costs
The bank said it will report further details of its quarterly earnings on Jan. 28.
Deutsche Bank may have had a "decent" performance in foreign exchange and rates trading that still couldn't make up for "challenging" revenues in credit, high-yield debt, leveraged lending and emerging markets trading, UBS Group AG analyst Daniele Brupbacher wrote to clients.
Deutsche Bank earmarked about 1.2 billion euros in the fourth quarter for litigation and 800 million euros for restructuring and severance costs, mainly in the private and business clients division.
Deutsche Bank has racked up more expenses for litigation and fines since the start of 2008 than any other financial firm on the Continent, according to data compiled by Bloomberg. Its legal costs in the fourth quarter also exceeded the 750 million-euro estimate of Piers Brown, a Macquarie Group Ltd. analyst.
Regulatory Probes
Deutsche Bank is the target of several regulatory probes into alleged misconduct. The U.S. Department of Justice and the U.K. Financial Conduct Authority have been looking into so-called "mirror trades" originating from its Moscow office. The Justice Department has also been examining what role the bank played in the industry's manipulation of currency exchange rates and precious metals trading. And Deutsche Bank has itself said it's cooperating with a U.S. probe of mortgage-backed securities.
The quarter "confirms our view that the task facing new management is very demanding," the Goldman Sachs analysts wrote. The bank's litigation issues will probably persist for a "multi-year period," they said.
Before it's here, it's on the Bloomberg Terminal.
LEARN MORE