Currency Peg Absurdities Revealed in Denmark as Rate Bets Undone
On Thursday morning, economists were predicting Denmark might raise rates. By mid-afternoon, some were wondering whether it might cut.
More than any other policy makers, Danish central bankers spend their lives watching the European Central Bank. The krone is pegged to the euro and monetary policy is dedicated to nothing else than defending that currency regime.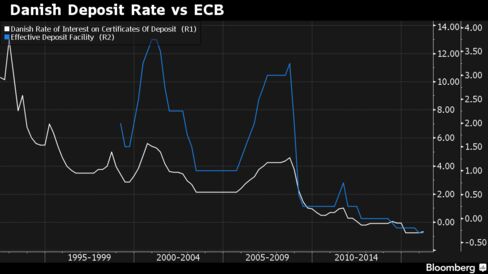 Last year, the Danish central bank was fighting back speculators eager to hoard AAA-rated krone assets. To keep them out, policy makers cut the benchmark rate to minus 0.75 percent, stopped selling government bonds and dumped kroner on the market. When sentiment turned, the bank started unwinding those measures. This month Denmark raised its deposit rate by 10 basis points to support the krone.
But Mario Draghi's Thursday message-- that the ECB may add stimulus in March -- changed everything for the Danes (yet again.)
"It's now more uncertain what Denmark's central bank will do because it's not clear where ECB rates will go and it's also not clear exactly what spread Danish rates should have to the ECB," said Steen Bocian, chief economist at the Confederation of Danish Enterprise.
And while a weaker krone this year had economists trying to predict the timing of the next Danish rate increase, the latest words from Draghi have now "opened the door" to a Danish rate cut, Bocian said.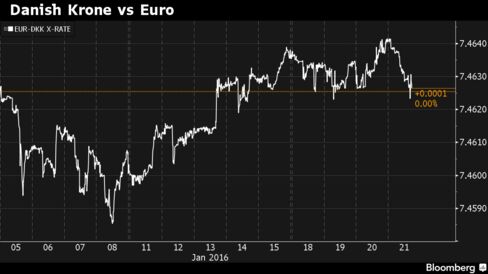 But that's far from the final word. Jes Asmussen, chief economist at Handelsbanken in Copenhagen, says there's still a chance Danish rates may be raised. "If capital keeps flowing out and if the krone isn't strengthened, then the door remains open in the coming weeks for an increase in the deposit rate," he said.
So the outlook is clear: Danish rates will either be cut, or raised.
Before it's here, it's on the Bloomberg Terminal.
LEARN MORE