Global stocks are on the cusp of entering a bear market, with the MSCI All Country World Index 19.5 percent below last May's record high. A late resurgence in U.S. equities on Wednesday spared the benchmark from closing 20 percent below that peak. At least 40 stock markets around the world with a total value of $27 trillion are in bear territory, including the U.K.'s FTSE 100 Index and Japan's Nikkei 225 Index, which achieved the ignominious distinction yesterday. Only seven global equity benchmarks have risen in 2016, out of 93 tracked by Bloomberg.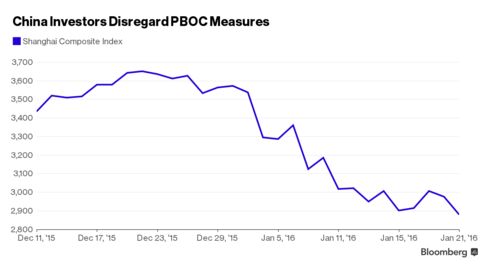 China's central bank injected 400 billion yuan ($60.8 billion) into its financial system, the most in three years, to keep borrowing costs down as capital flees the nation. The move is the latest attempt by authorities to stabilize its markets yet failed to lift the stock market. The Shanghai Composite Index sank 3.2 percent to the lowest close since Dec. 2014. The gauge is the world's worst performing major equity index in 2016, with a decline of 19 percent. Asian stocks took their lead from China. The MSCI Asia Pacific Index fell another 1.8 percent to the lowest in three-and-a-half years, bringing its 2016 slide to 13 percent.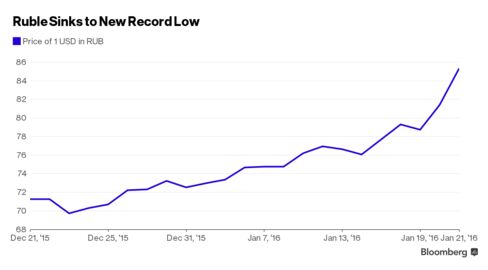 Russia's ruble fell to a record low of 85.95 per dollar, bringing its two-day drop to 7 percent. The fortunes of the currency are tied to the price of oil, which has fallen 26 percent in 2016. Don't expect authorities to intervene to stem the decline, not until the stability of the banking industry is threatened. That's the view of the nation's central bank Governor Elvira Nabiullina. The last time the ruble traded around 80 per dollar, in Dec. 2014, the central bank unexpectedly raised interest rates by six percentage points. The ruble's decline threatens to push up inflation which could make it harder for policymakers to resume interest-rate cuts to boost the flagging economy.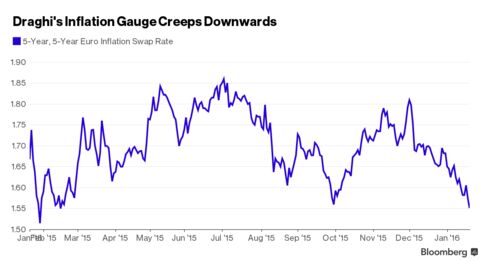 ECB President Mario Draghi's preferred inflation measure, which looks at the market's future price expectations, has fallen to its lowest level since Feb. 2015, before policymakers started their bond-buying program. The slump in the oil price and an appreciating euro also adds pressure on policymakers to act again, something most analysts polled by Bloomberg see happening in March or in June.
Mark Barton is a presenter on Bloomberg TV. Follow him on Twitter @markbartontv
Before it's here, it's on the Bloomberg Terminal.
LEARN MORE