Cemex Analyst Calls Spurned as Investors Flee Currency Decline
Mexican cement maker falls as peso's drop adds to debt burden

Weaker construction outlook in some markets heightens worries
Stock pickers recommend Cemex SAB more than any other company on Mexico's benchmark index. Investors couldn't disagree more with that advice.
The largest cement maker in the Americas is poised for its biggest monthly decline in four years, punished by a U.S. currency surge that makes the company's dollar-denominated debt more expensive to repay. That's confounding the predictions of analysts who have given Cemex the highest consensus recommendation on Mexico's IPC index.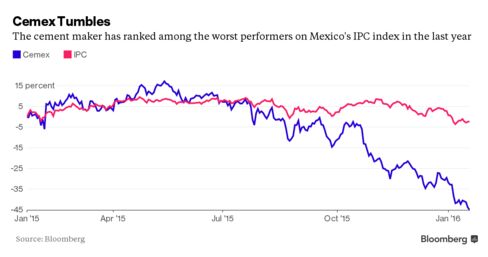 The greenback's gains mean heftier liabilities for the company, which has 85 percent of its debt in dollars compared with only about a quarter of its earnings before certain items, according to Credit Suisse Group AG. Cemex is also taking a hit from worries of slower construction activity in major markets, said Jorge Lagunas, head of equity strategy, sales and trading at Interacciones Casa de Bolsa SA.
"Every time the company has to pay interest on its debt, it's made more expensive by the peso's fall," Lagunas said an e-mailed response to questions. "The industry is also highly linked to broader growth, which is making some people worried."
Cemex has plunged 22 percent this year, making it the biggest loser on the IPC except for a builder that went into default last month. It's also the third-worst performer among 14 global peers selling building materials, according to Bloomberg Intelligence. The shares gained 6.9 percent to close at 7.88 pesos on Thursday.
Jorge Perez, a spokesman for the cement maker, declined to comment on its stock-market performance and forecasts.
Projected Gains
Faster sales growth in the U.S., Cemex's biggest market by revenue, has analysts predicting a rebound in shares from the lowest price since 2012. Eight recommend buying the company's Mexican stock and none counsels selling it. Based on their price targets, Cemex should almost double during the next year from its Wednesday close of 7.37 pesos a share.
Standing in the way is the dollar surge, which is lowering the value of Cemex's earnings in U.S. currency terms in some of its biggest markets. The Colombian peso tumbled 14 percent against the dollar in the three months ending Wednesday while the British pound dropped 8.1 percent and the euro fell 4 percent.
Cemex generates only 24 percent of its earnings before interest, taxes, depreciation and amortization in dollars while most of its debt is denominated in U.S. currency, Credit Suisse said in a report last month.
Sinking Peso
A big part of the challenge is at home in Mexico, Cemex's largest source of Ebitda, said Gerardo Copca, an analyst at Metanalisis SA.
The peso sank to a record on Wednesday, capping a three-month drop against the dollar of 11 percent. Government spending is under pressure from the falling price of oil, which historically accounts for about a third of public revenue.
"We're not seeing the recovery everyone was hoping for in the Mexican infrastructure sector," Copca said by telephone from Mexico City. "The government will probably have to halt many projects."
Before it's here, it's on the Bloomberg Terminal.
LEARN MORE