A Pixie to Keep an Eye on Your Keys
A bouquet of sensors connects the lowest-tech items to the Web.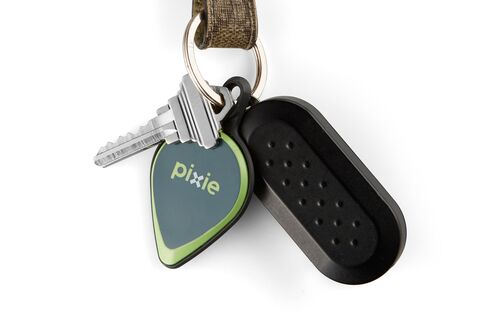 Amir Bassan-Eskenazi is walking around an Indian restaurant in Los Altos, Calif., searching for his keys without ever looking up from his iPhone. On the screen, a directional indicator that looks like a compass point steers him toward a table in the middle of the room. When he holds up the phone, its camera view of the room includes a circle flashing over the keys' location. He still can't see them, so he waves his phone over the circled spot, and it starts chirping like a metal detector that's found a quarter on the beach.
Bassan-Eskenazi is conducting his search with Pixie, a locator tool he created that resembles a jumbo guitar pick and can be stuck or chained to frequently lost items such as keys, wallets, purses, iPads, or TV remotes. While that might not sound revolutionary, Pixie's locator chips and software make the device more precise than many rivals. The technology isn't impaired by walls or other obstacles, so if you're in the living room and point your phone at the ceiling, it can show that your wallet is in the bedroom upstairs.
The metal detector-style ping is similar to the proximity alerts of other stuff-finder tools, such as the successful Kickstarter project Tile. Like Tile, Pixie communicates with an iPhone via Bluetooth. Unlike Tile, it's sold in packs of four, which the app can name to keep each one identifiable. Together, three of the Pixies ping out signals to better triangulate the location of the one you can't find, at a range as far as 50 feet indoors and 200 feet outdoors. Outside that range, it'll remember the item's last location. "It's an extremely complex system," Bassan-Eskenazi says. "None of this was done before."
Pixie has presold about 10,000 of the four-device packs on its website; early backers paid $35, but now buyers will pay $70. (Tile costs $25.) Peter Middleton, an analyst with researcher Gartner, says Pixie's technology is more sophisticated than the rest of what's on the market, particularly its layer of mapping software that highlights an item's location in what looks like the phone's camera view.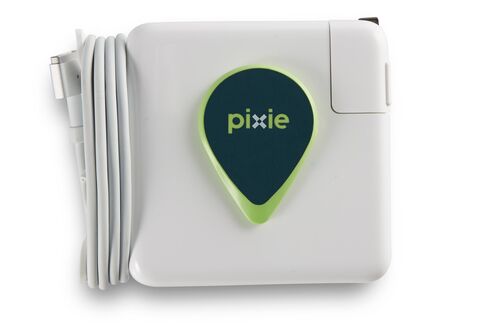 Bassan-Eskenazi got the idea for Pixie in 2011, when he was selling his previous company, the video networking service BigBand Networks, for $172 million to telecommunications-equipment maker Arris Group. As he was leaving for a meeting with his attorney to review the terms of the deal, he couldn't find his daughter's cat, Ouzo, and had to choose between being late or finding the pet. "The cat is at the top of our family food chain," he says. He found Ouzo under a bed. (One of Pixie's first beta testers attached the device to her cats' collars.)
Middleton says Pixie's challenge will be staying ahead of copycats. It also lacks Tile's GPS tracker. Jitendra Waral, an analyst for Bloomberg Intelligence, says connected-device makers need to focus on selling to corporations or making components for other devices. "Consumers are being bombarded by connected devices and probably aren't ready," he says.
Pixie, which isn't yet profitable, has raised $12 million in venture funding. Bassan-Eskenazi says he plans to expand the 25-employee company's focus beyond consumer sales, potentially embedding the locator tech directly into car keys, remote controls, and tablets. This month at the annual Consumer Electronics Show in Las Vegas, he set up shop at a booth sponsored by Intel, pitching the locator's applications to other device makers.
Back at the Indian restaurant, keys in hand, Bassan-Eskenazi says he'll soon announce an agreement to place Pixie in the stores of major retailers, which he won't name. "We want this to go into different hardware. It's a logical step," he says. Then, when the bill arrives, he begins rifling through his bag and pant pockets to cover his half. Should've brought a second Pixie: He'd misplaced his wallet.
The bottom line: Pixie has presold 10,000 sets of its location-tracking Bluetooth devices and plans to diversify more quickly than its cheaper rivals.
Before it's here, it's on the Bloomberg Terminal.
LEARN MORE