With All Eyes on Brazil's Downturn, Traders Rethink Rate Wagers
Swaps shows rate increasing 25 basis points instead of 50

Change came after central bank highlighted recession in note
Brazil's central bank sent a none-too-subtle reminder to traders who were expecting policy makers to ramp up their fight against inflation: Don't forget the recession.
It came in the form of a surprise statement Jan. 19, which said the central bank would take into account the International Monetary Fund's new forecasts for Brazil, which point to the longest and deepest downturn in over a century. Traders immediately began dialing back wagers on an interest-rate increase at this month's two-day meeting, which ends after 6 p.m. local time Wednesday.
For almost half a year, central bank officials have stayed on hold as they struggle between competing demands to combat inflation and help revive growth. While comments in recent weeks signaled the bank was ready to start raising rates again, its note on the IMF suggests it may bow to political pressures by focusing instead on the economy, said Flavio Serrano, a senior economist at investment bank Haitong.
"Political demands on the central bank are rising," he said. "That can only cause them trouble and lead some to think their decisions are based on something other than technical considerations."
Surging Prices
Many analysts, including Serrano, say there's good reason to raise the benchmark rate, which has remain unchanged at 14.25 percent since July last year. Analysts surveyed by the central bank are concerned consumer prices will continue to surge, and forecast inflation will remain above the 4.5 percent target this year and next after ending 2015 at 10.67 percent.
Brazil's real weakened for s second day Wednesday, slipping 0.5 percent to 4.0832 per dollar at 9:03 a.m. in New York. Swap rates on the contract due in January 2017 fell 0.035 percentage point to 15.345 percent, the lowest since Nov. 25.
Since its last meeting in November, the central bank also indicated that it had motivations to boost borrowing costs. It wrote in an open letter to the finance minister early this month that it would "adopt the measures needed" to bring inflation to target, sending swap rates higher on bets it would raise the key rate by a half-percentage point in January.
But the Jan. 19 statement that IMF estimates "will be considered in the decisions of the board" caused swaps to fall, with the majority of traders now betting on a quarter-point increase. The emphasis on the recession, which the IMF forecasts will deepen this year before the economy stagnates in 2017, was a reminder of the pressure placed on the central bank to prevent the downturn from worsening, said John Welch, a strategist at CIBC World Markets and long-time Brazil watcher.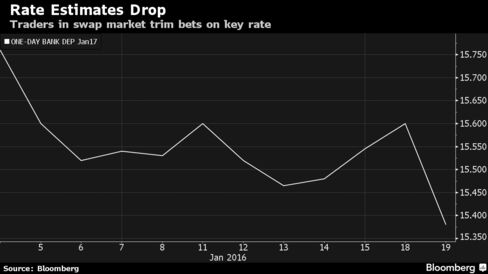 That pressure came late last month in the form of the ruling Workers' Party, whose leader Rui Falcao said that lifting interest rates would do more to hurt investment than it would to contain inflation. One of the country's leading newspapers, Estado de S. Paulo, reported over the weekend that the party would continue to push central bank chief Alexandre Tombini for lower borrowing costs. The central bank press office declined to comment about reports of political demands.
CIBC's Welch cautioned that giving into political pressure could undermine the central bank's credibility, while threatening to boost inflation estimates even further.
"The central bank really has to be strong," he said.
Before it's here, it's on the Bloomberg Terminal.
LEARN MORE