Who's Afraid of Ruble at Record Low? Not Europe's Biggest Fund
Investors are pushing the ruble to a record low on concern a deepening oil rout will cripple Russia's economy. Europe's largest asset manager isn't one of them.
Sergei Strigo, the London-based head of emerging-market debt and currencies at Amundi Asset Management, which oversees 952 billion euros ($1 trillion), says he has an overweight position and remains bullish as other traders overlook positives in favor of Russia: improving growth and an economy awash in hard-currency export earnings.
"We do like the ruble," Strigo said by e-mail Wednesday as the ruble traded at levels weaker than when Russia was in the throes of an economic and political crisis in December 2014. "We believe the fundamentals in Russia are solid. A growth rebound in 2016, current account dynamics, manageable fiscal deficit and abundant local liquidity support our positive view on the country."
Amundi's view stands out as hedge funds and other large speculators increasingly make bearish bets on the ruble, boosting net short positions in the week ended Jan. 12, U.S. Commodity Futures Trading Commission data show.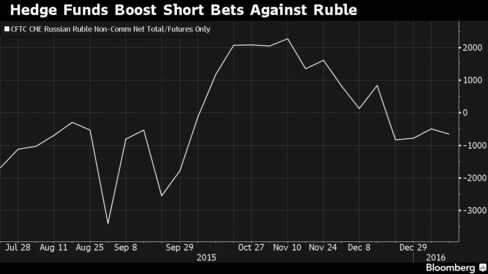 The Russian currency weakened 3.4 percent to 84.253 against the dollar by 11:36 a.m. in Moscow Thursday, the worst performance of 24 developing-nation currencies tracked by Bloomberg. The ruble has lost 25 percent of its value in the past three months, as oil at a 12-year low saps revenue of the world's biggest energy exporter. Strigo declined to say how long he's held his ruble positions.
The AF Bond Global Emerging Blended Fund managed by Strigo has outperformed 65 percent of peers over the past five years, handing investors a return of 2.9 percent in the period compared with 1.8 percent for peers, according to data compiled by Bloomberg. In the past year, the fund has also lost half as much as its competitors, with assets dropping 2.4 percent versus an overall decline of 5.2 percent.
"Should oil prices stabilize at the current levels, we believe that the ruble will outperform some of the other emerging currencies," Strigo said.
Before it's here, it's on the Bloomberg Terminal.
LEARN MORE