WHA Plans Thai REIT as Hemaraj Land Deal Leads to Cost Surge
Warehouse operator plans to raise more than $300 million

Acquisition was first step in planned Southeast Asia expansion
WHA Corp., Thailand's biggest publicly traded warehouse operator, plans to sell units in a real estate investment trust after its acquisition of the nation's biggest industrial developer last year caused debt and funding costs to surge.
WHA wants to raise at least 11 billion baht ($303 million) by selling a REIT backed by rental fees from warehouses and factories, Chief Executive Officer Jareeporn Jarukornsakul said in an interview Tuesday. It also plans to sell about 30 percent of a water and power unit, which Jareeporn estimates will have a market value of at least 25 billion baht when it begins trading on the exchange in the fourth quarter.
The company was forced to sell shares, bonds and some assets to finance last year's 40 billion baht acquisition of Hemaraj Land & Development Pcl, whose industrial estates on Thailand's eastern seaboard house factories operated by General Motors Co., Ford Motor Co. and Bridgestone Corp. WHA's diversification into industrial land development is the first step in the company's planned expansion into Southeast Asia, Jareeporn said.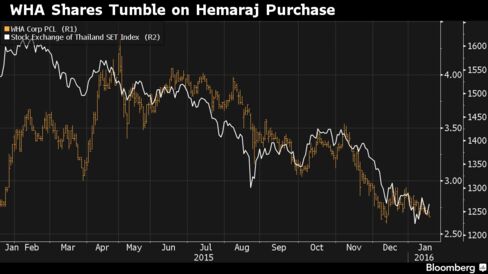 "Concern about our high debt level will significantly ease with the funds from asset divestment," Jareeporn said in an interview at her office in Samut Prakan, a province near Bangkok. "It will allow us to turn the focus to business expansion in Thailand and other Southeast Asian countries."
The Hemaraj acquisition increased WHA's debt to a record 65.6 billion baht, and an ensuing eight-fold jump in interest costs in the third quarter caused the company to record its biggest quarterly loss since selling stock to the public in 2012, according to data compiled by Bloomberg.
"WHA needs to bring down the leverage as soon as possible," said Maria Lapiz, an analyst at Maybank Kim Eng Securities (Thailand) Pcl. The company hasn't benefited from the Hemaraj deal yet because of the jump in debt and financial costs, she said.
WHA's shares fell 1.5 percent to close at 2.62 baht on Wednesday, a third straight day of declines, while the SET Index slid 1.4 percent. The stock has lost 8.4 percent this year, compared with a 3 percent decline in the benchmark equity gauge.
The sale of the REIT and shares in a unit that supplies water and power to the industrial estates will help trim WHA's debt-to-equity ratio to about 1.38 from a multiple of 3.33 at the end of September, said Jareeporn.
WHA plans to delist shares of Hemaraj from the stock exchange in February, enabling it to sell the developer's assets to the REIT, Jareeporn said. The company may invest in industrial estates or power and logistics businesses in countries including Cambodia, Indonesia, Laos, Myanmar and Vietnam, she said.
Before it's here, it's on the Bloomberg Terminal.
LEARN MORE