Verizon's Earnings May Offer Sobering View of Price-Cutting
Subscriber growth slowing, phone bill size shrinking: analysts

The No. 1 carrier reports fourth-quarter results Thursday
Verizon Communications Inc. may disappoint investors on two key measurements when it reports fourth-quarter earnings Thursday: subscriber growth and phone bill size. For the nation's largest wireless carrier and one of the best performers in the industry, that's no small matter.
Earnings excluding certain items is estimated to rise 24 percent to 88 cents a share on a 2.6 percent increase in sales to $34.1 billion, according to analysts' estimates compiled by Bloomberg. Yet, Verizon may have added only 1.4 million monthly subscribers in the quarter, based on the average of five analysts surveyed by Bloomberg. That's about 30 percent less than a year earlier, underscoring the challenges facing a market where Sprint Corp. cuts bills in half and T-Mobile US Inc. lures customers with free video streaming.
No. 2 carrier AT&T Inc., which will post its results on Jan. 26, may have added 555,000 monthly subscribers in the quarter, a 35 percent drop from a year earlier, according to analysts.
Almost every consumer already has a phone, so carriers have to get creative: tablet giveaways, device financing and price cuts.
Yet all this price-cutting appears to be hurting Verizon and AT&T while helping T-Mobile and Sprint. After eight straight years of shedding monthly subscribers, Sprint is expected to close 2015 with its first full-year of user gains. The fourth-largest carrier, which reports Feb. 2, added an estimated 521,000 new post-paid customers in the fourth quarter, according to a Bloomberg survey of five analysts. These customers use more data, buy tablets and pay their bills every month.
T-Mobile, which reports earnings in February, exceeded its own expectations for subscriber growth in 2015. The nation's third-largest carrier gained 2.1 million total customers in the fourth quarter, 1.3 million of which were post-paid monthly subscribers, according to preliminary results released earlier this month.
These promotions, as well as the separation of the handset costs from the monthly service charges, have eroded carriers' average user bill over the past year.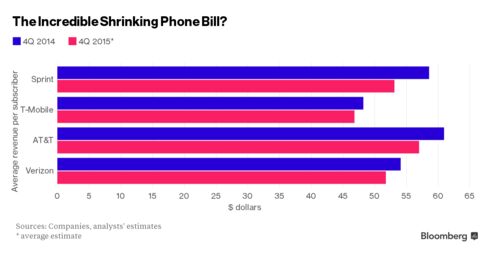 Before it's here, it's on the Bloomberg Terminal.
LEARN MORE