For All China's Reserves Burning, It Still Holds Onto Treasuries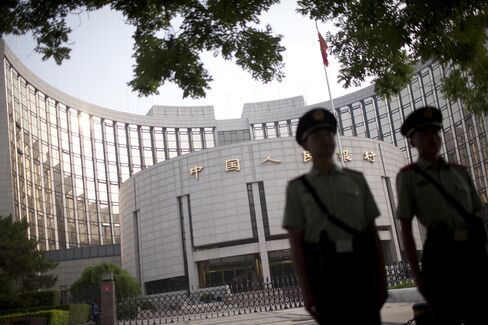 China sold $16 billion from Aug. to Nov., U.S. data show

December figures will shine more light on nation's assets
Even as China's central bank ran down reserves at a record pace last year, it still held onto a $1.4 trillion pile of U.S. Treasuries.
The People's Bank of China burnt $213 billion of reserves from August through November, as it sought to ease capital flight and slow the yuan's slide after devaluing the currency. Yet its Treasuries holdings dropped only $16 billion during the period, or about 1 percent, according to U.S. Treasury data released Tuesday.
The gap may allay concern that China, the biggest foreign holder of U.S. government debt, would unload those assets as it seeks to calm its markets and support its economy, which grew last year at the slowest pace since 1990. China's $3.3 trillion of reserves shrank last year for the first time in data going back to 1995.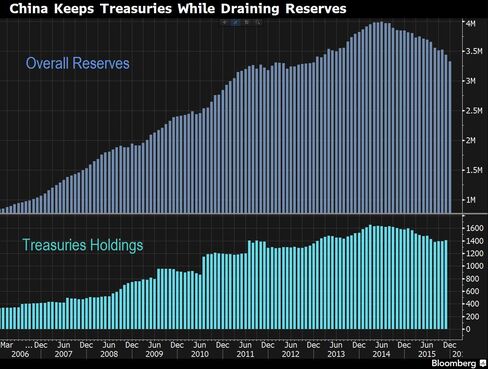 "Treasury sales that can be attributed to China have been extremely modest in the last three months," Alan Ruskin, global co-head of foreign-exchange research in New York at Deutsche Bank AG, said in a note published Jan. 19. "This would fit with the idea that central banks are still looking to liquidate non-USD assets before USD assets, even if they are intervening to support their currency versus the USD."
Haven's Lure
The findings suggest China's reserves managers are no different than Wall Street investors when it comes to keeping profitable assets. The U.S. currency has outperformed all major peers, other than the yen, in the past three months. Meanwhile, global demand for a haven, driven by China's own economic slowdown and tumbling equities, has supported Treasuries in 2016, driving up the value of China's holdings. The tally of China's U.S. debt includes Belgium, which analysts say is home to Chinese custodial accounts.
"It makes a lot of sense for me that they'd be more inclined to be offloading assets outside the U.S., especially when U.S. yields are actually on the high side of the range," Ruskin said in an interview. Deutsche Bank is one of the 22 primary dealers obligated to bid at government-debt auctions.
Benchmark 10-year Treasuries yield about 1.5 percentage points above their German counterparts, data compiled by Bloomberg show.
Treasuries holdings data for December, to be released Feb. 16, may reveal more clues on China's resolve in keeping its U.S. debt. Its reserves dropped a record $108 billion last month as the central bank stepped up efforts to defend the yuan.
Chinese currency intervention has continued into this year, suggesting the drawdown of reserves extended into 2016. The central bank has intervened in onshore and offshore markets via state banks, people familiar with the matter said.
"The bulk of that selling likely occurred in December, rather than November," Ward McCarthy, chief financial economist in New York at Jefferies LLC, another primary dealer, said in a note published Wednesday.
Before it's here, it's on the Bloomberg Terminal.
LEARN MORE