Citic Ends HSBC's Seven-Year Reign as Emerging Market Bond King
Citic takes the lead, aided by central bank's rate cuts

Mainland's beleaguered top brokerage snares 4.3% of business
China's efforts to stimulate its economy is turning the nation's biggest brokerage into a bond-market powerhouse.
Citic Securities Co. overtook HSBC Holdings Plc in 2015 as top arranger for emerging-market debt securities worldwide as rate cuts by the People's Bank of China reduced borrowing costs and boosted yuan-denominated bond issuance in the onshore market, data compiled by Bloomberg show.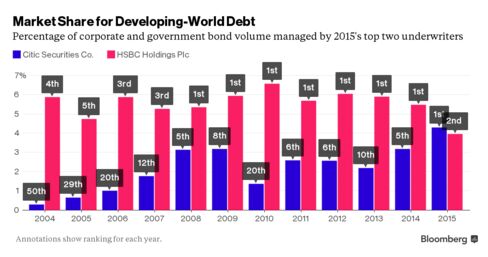 Citic last year managed the equivalent of almost $53 billion worth of offerings with maturities of 18 months or more, almost all of that yuan-denominated, or 4.3 percent of the global market. HSBC, which dominated the developing-world bond market from 2008 to 2014, managed $46.2 billion worth for a second-place market share of 4 percent.
Premier Li Keqiang has encouraged expansion of China's bond market to help wean firms from reliance on loans from shadow banks. Central bank rate cuts also helped government and corporate issuance onshore surge 66 percent last year to 9.9 trillion yuan ($1.5 trillion), according to debt clearinghouse Chinabond.
Brokerages are also winning business overseas. Citic's underwriting in foreign currencies rose to 11.6 percent of all its developing-world debt business in 2015 from 2.8 percent the previous year.
While Citic, the focus of government investigations for alleged offenses including insider trading during the nation's recent stock rout, led the emerging-market bond league table, Industrial & Commercial Bank of China Ltd. topped the ranking for Chinese local securities including commercial paper.
The developing-market leaders so far this year are Citic at 4.9 percent, Citigroup Inc. at 4.8 percent and HSBC at 4 percent.
Before it's here, it's on the Bloomberg Terminal.
LEARN MORE