Oil's Collapse Turns to Bane From Boom for Indian Stocks: Chart
The rout in oil has been a windfall for Asia's second-biggest crude buyer. But, it's also helped push India's $1.3 trillion equities market to the brink of a bear-market territory.
A rebound to $50-$60 a barrel would help stem the capital outflows that have sent emerging-market stocks to a six-year low, said S. Naren, chief investment officer at ICICI Prudential Asset Management Co, India's second-biggest money manager. While oil's plunge helped curb India's current-account deficit from a record and allowed the central bank to cut borrowing costs four times in 2015, the selloff in equities has blunted those benefits, he said.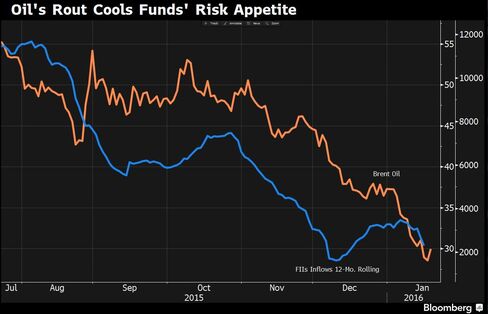 "As long as oil stays below $30, I don't think there's a rally coming in equities," he said. "While cheap crude is extremely beneficial for the Indian economy, the way it impacts equity markets is very different from the way it impacts debt markets."
Global funds have pulled $1.1 billion from local shares since Jan. 1, after the smallest inflow in four years in 2015. The withdrawals helped bring the S&P BSE Sensex to within 1.5 percent of the 20 percent threshold for a bear-market zone on Monday.
This is the year "crude and Indian stock markets will be positively co-related," said Naren. "If oil goes up, the market will go up."
Before it's here, it's on the Bloomberg Terminal.
LEARN MORE