Lira Falls as Policy Makers Fail to Signal Turkish Rate Shift
Policy makers keep all three interest rates unchanged

Currency weakens 0.1 percent after central bank's decision
Turkey's lira weakened after the central bank kept interest rates unchanged and made no reference to simplifying its monetary policy framework, a sign it will extend a year-long pause on rates that Turk Ekonomi Bankasi AS says poses risks to the currency.
The lira weakened 0.1 percent to 3.0400 against the dollar as of 4:16 p.m. in Istanbul after gaining as much as 0.5 percent earlier. While the central bank's decision to hold interest rates was in line with the median estimate of economists surveyed by Bloomberg, the regulator dropped a reference to a pledged "simplification" of policy in the latest statement from the monetary policy committee.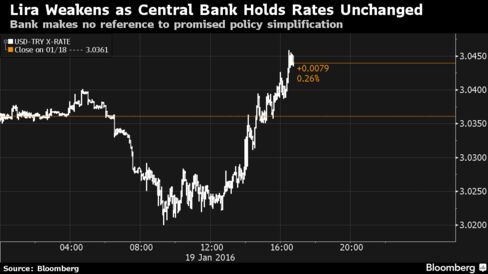 The decision underscores the bank's reluctance to begin narrowing its interest-rate corridor around its one-week repurchase rate, even after Central Bank Governor Erdem Basci last year pledged to do so. Policy makers are under political pressure to boost growth by keeping interest rates low even as inflation accelerates. They surprised markets last month by delaying an anticipated rate increase in order to gauge the reaction to the Federal Reserve rate increase in December.
"The central banks seem to have postponed the simplification of monetary policy for now," Erkin Isik, an Istanbul-based strategist at Turk Ekonomi Bankasi, said by e-mail. "The central bank seems more likely to keep its current policy stance without tightening or easing, no matter what the global backdrop is, at least until Governor Basci's term ends in April. This leaves Turkish markets heavily dependent on the global backdrop, and ongoing weakness in global risk sentiment risks further downside in the lira."
The central bank kept its one-week repo rate at 7.5 percent, the overnight-lending rate at 10.75 percent and the overnight borrowing rate at 7.25 percent, maintaining levels that have been in place since February.
Inflation Rises
Inflation accelerated to 8.8 percent in December, the highest year-end level since 2011, missing the central bank's target for a fifth year. The nation's currency has weakened 23 percent in the past 12 months.
Future monetary policy decisions will be conditional on the inflation outlook, and "the tight liquidity stance will be maintained as long as deemed necessary," the central bank said in a statement accompanying its decision Tuesday. The bank controls the weighted average cost of bank funding by adjusting the amount of liquidity it lends through daily one-week repo auctions, forcing banks to borrow at higher overnight rates to cover any remaining funding needs.
Basci said in October it would be "reasonable" to expect the process of simplifying policy from this current multi-rate framework toward a single benchmark rate to begin after the Fed lifted borrowing costs.
It's "extremely important that the central bank sends a very clear message about its intentions to reduce market speculation," Piotr Matys, an emerging-market strategist at Rabobank in London, said by e-mail. The risk that lira volatility may escalate again will "make it even more difficult for the central bank to finally normalize its monetary policy," he said.
Before it's here, it's on the Bloomberg Terminal.
LEARN MORE