Indian Motorcycle reintroduced the Scout to the world in August 2014. The midsize cruising model was a top-seller in the brand's Prohibition-era heyday, so it seemed like a good way for Indian owner Polaris Industries to gear up against Harley-Davidson. Now the company has unveiled a slightly more subdued iteration dubbed the Scout Sixty.
We were so eager to ride Indian's latest that we agreed to test the bike in a New York December. Most sane people spend this time of year considering the possibilities of human hibernation: There's a reason motorcycle purchases don't spike until spring. It was a chilling, thrilling, and occasionally drenching experience.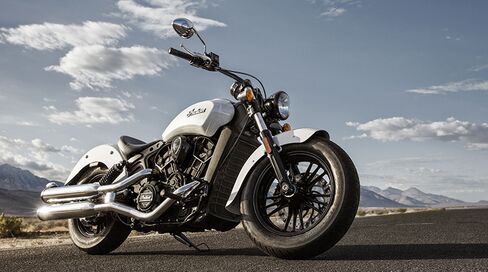 The Scout Sixty is almost identical to the original Scout—the only major differences are in power and price. The Sixty gets the same aluminum frame, suspension, brakes, and geometry as its bigger sibling. The V-twin engine, however, is 12 percent smaller and carries far less chrome than the version found on the larger Scout. Indian also simplified the transmission on the Sixty, ripping the fifth gear out of the original model's six-speed gearbox. Don't worry, it will not be missed.
Visually, the Scout Sixty has a rawer, more understated look than one expects in a cruiser from a heritage brand. The engine is blacked out, as are the frame, wheels, and headlight. The result is a sleeker, more modern motorcycle. Overall, it's a bit more Brooklyn than Sturgis.
Thanks to the simplifications, a no-frills Sixty in "Thunder Black" can be had for $9,000, some 20 percent less than its big brother. If you want it in Indian "Motorcycle Red" or "Pearl White" (which you do), the price jumps $300.
The Scout Sixty is not a city bike, but it does a very good impression of one. Yes, it weighs 561 lbs with a full tank of gas, but it's an athletic 561 pounds. Like an outside linebacker, it changes directions shockingly fast for such a large machine. It corners willingly and gracefully. Press gently on the bars, lean your torso, eye your line, and you'll find the Sixty has arced smoothly through even the tightest of turns1. Small bumps are easily shrugged off by the beefy tires, though on particularly rotten sections of road we did wish for more than the 3 inches of travel the rear shocks provide.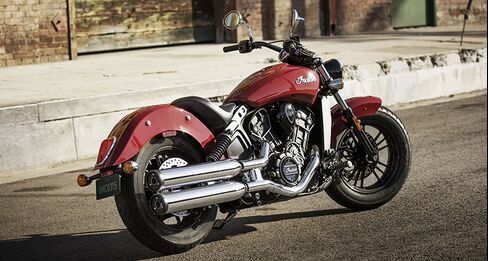 Despite the weaker engine, power is ample, even at low RPMs. The bike pulls off the line with authority. It lacks the terrifying quickness of a sport bike, but that sort of speed would seem gauche on a cruiser. The 999 cc engine provides just enough power to get yourself into—and out of—trouble. The single-rotor brakes are powerful enough to operate with just two fingers even in less than ideal conditions. Shifting through the five-speed gearbox is effortless. Pull on the lever, flick your left foot, and the gears engage with a reassuring "snick."
The nice thing about riding this detuned version of the bike is that you never have to worry about using too much throttle or too much brake: Just use all of it at all times.
Of course, nothing is perfect. The Scout Sixty is a bit quiet. Calling any motorcycle "quiet" is like calling a shot of tequila "non-intoxicating," but in this case it's relatively true. Steven Menneto, president of Polaris Motorcycles, says that exhausts are the most popular accessory for Scout buyers; roughly three-quarters of customers add louder pipes. If we were to buy one, we'd do the same.
The faux-leather saddle begged for an upgrade as well. We often found ourselves sliding off the back and wishing that it curved up a few inches more in the rear. These less-than ideal fittings are how Polaris gets the starting price down and also where it claws some of that revenue back on the accessories market.
Menneto says that about 40 percent of people buying the bike are first-time riders2. The low seat3, light clutch, and high, wide handlebars are inviting for those new to two-wheeled fun. "You look at the global market segment and the entry-level segment—there's a lot of opportunity," Menneto explained.
To be sure, the motorcycle market is brutally competitive, especially now that Indian is back in the game. Winning over a new rider is far easier than persuading a longtime biker to switch brands.
There's only one problem: The Sixty isn't really an entry-level bike, at least not when compared with the Harley-Davidson Street 500, Honda CTX700, and Yamaha V Star 650, all of which are far smaller, cheaper, and easier to squeeze out from under if they clumsily topple over at a stoplight.
So why did Indian make the Sixty? Probably because it was an easy and cheap exercise. Designing and producing an entirely new motorcycle takes a few years and tens of millions of dollars. Watering down an existing design to entice rookies with a lower sticker price is far easier—it can even come off the same assembly line. This is a savvy temporary work-around for a company still racing to build a full line of products.
Menneto said his team is working on smaller bikes, but they had to prioritize their efforts thus far. "We're only two-and-a-half years out of the gate, and we have seven models already," he said. "I think we've done a lot."
With the new Scout Sixty, Indian has certainly done enough to earn the loyalty of new riders. In fact, it might have done too good a job. The company insists there are buyers who need the extra horsepower, but frankly, we see little reason to pay an additional $2,300 for the larger Scout. Those pining for a true starter bike, though, might want to wait and see what Indian comes out with next.
Before it's here, it's on the Bloomberg Terminal.
LEARN MORE