Drop in home prices likely to prompt HKMA to relax limits

`Banks are very safe with loan-to-value ratios': Ngai
Hong Kong's central bank will probably relax restrictions on down payments for home buyers this year should prices continue to drop, according to a Bank of America Corp. property analyst.
"It's likely to happen," Raymond Ngai, head of Greater China property research at Bank of America's Merrill Lynch unit, said at a news briefing Tuesday. "Prices have fallen 8 percent since September and with another 5 to 10 percent drop you may see the HKMA relax restrictions," he said, referring to the Hong Kong Monetary Authority.
That would signal an unwinding of macro-prudential measures on loan-to-value ratios that the monetary authority started implementing in 2009. Analysts including Alfred Lau at Bocom International Holdings Co. are predicting home prices could fall as much as 30 percent this year as the supply of properties increases and speculative pressure on the Hong Kong dollar pushes up short-term interest rates.
The most recent tightening by the HKMA was in February last year, when it increased the minimum down payment on properties valued at less than HK$7 million ($900,000) to 40 percent from 30 percent. It also required buyers of homes worth more than HK$10 million to put down 50 percent, up from 40 percent.
"I don't think we need to pay a 40 or 50 percent down payment if prices correct 10 or 15 percent," said Ngai. "Banks are very safe with loan-to-value ratios," he said, predicting required down payments could fall to the 30 percent to 40 percent band.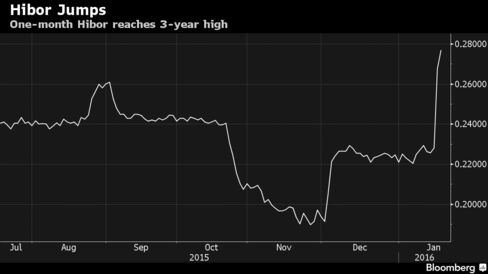 The one-month Hong Kong interbank offered rate jumped to a three-year high of 0.277 percent Tuesday. That means potentially higher borrowing costs to home owners, as more than 80 percent of new mortgages in Hong Kong are tied to Hibor.
In a research note published Wednesday, Credit Suisse Group AG analysts led by Susanna Leung said that with 85 percent of new and secondary home mortgages since 2009 tied to Hibor, "end-user or investment demand will likely shrink further as the cost of holding a property increases while net rental return diminishes."
Other measures to manage demand, including stamp duties that can add as much as 23 percent to the cost of luxury-apartment purchases by foreigners, will remain in place for some time, Bank of America's Ngai said.
Before it's here, it's on the Bloomberg Terminal.
LEARN MORE