Elevated Hong Kong Dollar Risk Reversals Collide With Record Reserves: Analysis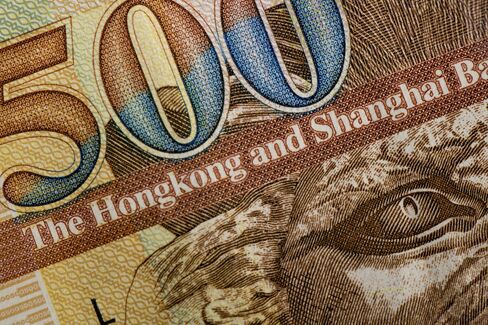 Investors are paying the highest premium in at least 12 years to buy USD/HKD call options relative to puts on speculation Hong Kong may scrap its currency peg. They may be underestimating the Hong Kong Monetary Authority's ability to defend the peg, writes Bloomberg strategist Paul Jarrett.
HKMA continues to hold the equivalent monetary base of reserve dollars estimated at a record $359 billion. Reserves increased 9.2 percent last year, the fastest pace since 2012.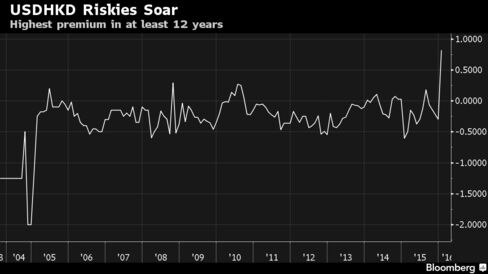 Hong Kong dollar has weakened 0.6 percent since the Federal Reserve raised benchmark rate for the first time in almost a decade. The currency, which is allowed to trade from 7.7500-7.8500 per U.S. dollar, is now at 7.8073.
For its part, HKMA has conceded that currency is headed toward the weaker end of the peg following an outflow of funds. Outflows will gradually reduce the monetary base in Hong Kong and cause domestic interest rates to rise, tracking U.S. rates, Norman Chan, chief executive of HKMA said this week.
Still, he allayed fears that currency peg could be scrapped; "We see no plans, there is no intention, it is not necessary, to change the system," Chan said.
The peg, introduced in 1983, has stood the test of time, having outlived the SARS outbreak of 2003, the global financial crisis in 2007-08 and the Chinese equity collapse of 2010-11.
HKMA's currency-board agreement requires every HK dollar in circulation to be backed by equivalent amount in U.S. dollar.
Note: Paul Jarrett is a strategist who writes for Bloomberg. The observations he makes are his own and are not intended as investment advice.
Before it's here, it's on the Bloomberg Terminal.
LEARN MORE