Dovish Tombini Has Traders Seeing Smaller Rise in Interest Rate
Tombini will consider IMF forecast of deeper Brazil recession

Currency trim gains as traders price in 25 basis points hike
Traders dialed back wagers on increases to Brazil's benchmark interest rate and the real declined on renewed speculation that the central bank will limit further increases in borrowing costs to shore up growth.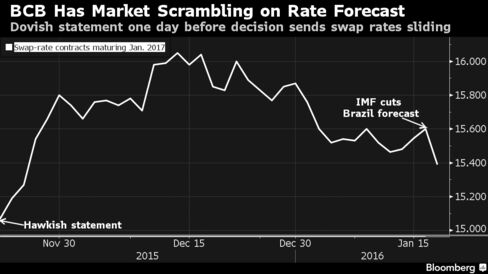 Swap rates on contracts maturing in January 2017 plunged the most in three months after central bank President Alexandre Tombini said policy makers will take into account the International Monetary Fund's forecast of a deeper recession in Brazil as they meet this week to decide on interest rates. Swaps now show the bank is likely to increase the overnight rate by a quarter percentage point, down from half a point previously.
Policy makers are weighing two competing concerns as they decide on interest rates. Inflation is the highest in 12 years and more than double the central bank's target, which would argue for higher borrowing costs to damp prices. At the same time, the country is forecast to be in the midst of its worst recession in a century, which would normally encourage policy makers to limit rate increases in a bid to foster economic growth.
Tombini's comments signaled to traders he's more concerned about the economy.
"This dovish tone is certainly weighing on Brazilian assets now," said Ipek Ozkardeskaya, an analyst at London Capital Group. "It discouraged the carry trades as the expectation that the central bank could limit hikes is now taking over the market."
The January 2017 contract fell 0.22 percentage point to 15.38 percent in Sao Paulo. The real dropped 0.8 percent to 4.0641 per dollar after gaining as much as 0.8 percent.
The IMF said Tuesday that Brazil won't return to growth until at least 2018 after two years of recession and one of stagnation. Gross domestic product will shrink 3.5 percent this year after contracting 3.8 percent in 2015, then be little changed for 2017, it said. That would be the first time since 1901 that Brazil has back-to-back recessions deeper than 3 percent, according to the government's economic research institute.
"Tombini considers as significant the revisions of growth projections for Brazil in 2016 and 2017 carried out by the International Monetary Fund," the central bank said in a statement. "President Tombini highlights that all relevant economic information available up to the Monetary Policy Committee meeting is considered in the decisions of the board."
Brazil's government is said to expect the central bank to raise the rate by 0.25 percentage point to 14.5 percent, according to an article Tuesday in O Estado de Sao Paulo newspaper. Tombini is facing political pressure to avoid increasing borrowing costs too much and the central bank board is currently divided on raising the rate, Estado wrote.
Some members of Brazil's ruling party expect the recession and unemployment to worsen if the central bank increases the Selic rate, according to the newspaper.
Tombini's statement "increases the chance that there won't be a 50 basis-point hike," Flavio Serrano, a senior economist at Haitong Bank in Lisbon, said in an interview. "The market had completely priced in such a move, and this statement is adding uncertainty."
Of the 39 economists surveyed by Bloomberg, 29 expected the central bank to raise the Selic by half a percentage point on Wednesday. Three of them expected a quarter-point boost while seven forecast it to remain at 14.25 percent.
The real, which has plummeted 35 percent in the past year, the most among major currencies, gained on speculation that authorities in China will act to bolster growth. China is the biggest market for Brazil's exports, and the weakness of Chinese currency and stock markets this year has weighed on commodity exporters.
Before it's here, it's on the Bloomberg Terminal.
LEARN MORE