BHP Cuts Full-Year Iron Forecast After Deadly Brazil Spill
Brazil joint venture with Vale halted after dam disaster

Shares decline to lowest level in more than a decade
BHP Billiton Ltd., the world's biggest mining company, trimmed its full-year iron ore forecast after its Brazil joint venture was halted following a dam breach in November that killed at least 17 people. The shares fell to the lowest level in 11 years in Sydney trading.
Production should be 237 million metric tons in the 12 months to June 30 from a year earlier, compared with its July estimate of 247 million tons, Melbourne-based BHP said Wednesday in a statement. Samarco, jointly owned by Vale SA, has been halted since a dam failure that Brazil's government described as the country's worst environmental disaster. Vale last month cut its full-year output guidance by as much as 10 percent.
"Iron ore production was probably a little under expectations," Ric Spooner, chief analyst at CMC Markets in Sydney, said by phone. "There are no upside surprises in this, and in an environment where the markets are negative on the sector, that lack of upside surprise could create a bit of price disappointment."
BHP dropped 3.5 percent to A$14.21 in Sydney trading, the lowest since January 2005. The producer has plunged 45 percent in the past 12 months.
The Brazil disaster and the plunge in prices of commodities from iron ore to oil have helped drag BHP's shares down. The $4.9 billion post-tax writedown on the value of its U.S. shale oil and gas assets flagged last Friday and additional charges of as much as $450 million announced today, added to concerns over BHP's ability to retain a dividend policy that seeks to maintain or increase returns each year.
Supply Gluts
The benchmark price of iron ore, BHP's top earner, has slumped more than three-quarters since its 2011 peak, while oil this month plunged below $30 a barrel for the first time in 12 years. The Bloomberg World Mining Index of 80 stocks, including BHP and Rio Tinto Group, has lost more than 40 percent in the past 12 months amid concern over a weaker pace of growth in China, the biggest commodities consumer, and supply gluts in energy to metals.
Iron ore output in the three months ended Dec. 31 rose 1 percent to 57 million tons, BHP said. That missed the median estimate of 59.3 million tons among seven analysts surveyed by Bloomberg. Rio Tinto, the second-biggest miner, said Tuesday its iron ore output climbed 10 percent in the final quarter of 2015.
Petroleum output fell 5 percent to 60.2 million barrels of oil equivalent in the quarter compared with a year earlier, BHP said. That beat the median estimate of 58.4 million barrels among seven analysts. Full-year guidance was maintained at 237 million barrels.
Prices Down
"Commodity prices fell substantially in the first half of the 2016 financial year putting pressure on the whole resources sector," Chief Executive Officer Andrew Mackenzie said in the statement. BHP is "committed to protecting our strong balance sheet so we have the financial flexibility to manage further volatility," he said.
BHP's realized iron ore price declined 39 percent in the six months to Dec. 31 compared to the same period a year earlier, while the oil price it received plunged 51 percent and its copper price by 29 percent over the period, the producer said in the statement.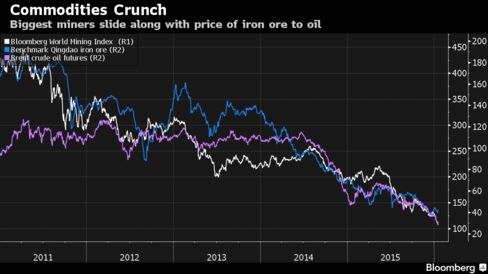 The economy in China, BHP's biggest customer, expanded at 6.9 percent in 2015, the slowest full-year pace since 1990 and in line with the government's target for about 7 percent, the nation's statistics bureau said Tuesday. Services accounted for half of gross domestic product last year, Premier Li Keqiang said Saturday in a speech, underlying a transition in the world's No. 2 economy that's denting the outlook for steel and coal.
Copper Declines
BHP will cut its dividend payment by half to 31 U.S. cents in the six months to Dec. 31, according to Bloomberg Dividend Forecasts, while investors are also anticipating further cuts to capital expenditure, CMC's Spooner said.
Total iron ore output, including third-party tons, from Western Australia rose 5 percent to 64 million tons from a year earlier. That missed a 67.4 million ton median estimate among four analysts surveyed by Bloomberg. BHP said it was maintaining full-year guidance of output of 270 million tons from operations in the Pilbara district.
BHP forecasts its share of full-year iron ore output to rise about 1.7 percent in the year through June 30, compared to the previous 12 months. Iron ore is the only division forecast to increase volumes this fiscal year, with BHP's guidance predicting annual output declines in coal, copper and petroleum.
Copper output declined 9 percent in the quarter to 385,000 tons to beat the 377,000 ton median estimate among five analysts. Output is being constrained by declining grades at Chile's Escondida, the world's biggest copper mine, BHP said.
BHP said Wednesday it expects to book additional charges of $350 million to $450 million related to redundancies, royalty and taxation issues and inventory writedowns on weaker prices.