Bailout Cup for S&P 500 Cracks as Dividends Outpace Profits
Dividends account for higher proportion of operating earnings

Falling quarterly earnings and high margins amplifying concern
In the bull market for U.S. stocks that is nearing its seventh anniversary, investors could count on corporate largess to help them through the rough patches. That's now in jeopardy.
With equities buckling amid a hiatus in buybacks, the amount of money available to cover shareholder distributions is starting to get stretched. Take dividends, where total cash outlays among Standard & Poor's 500 Index companies have climbed to 41 percent of earnings, the most since 2009.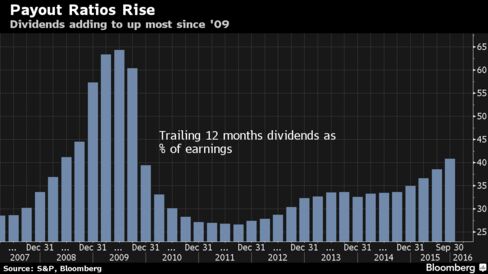 Shrinking bandwidth for shareholder assistance joins a growing list of concerns for equity investors who this month endured the worst start to a year on record. With more than $2 trillion erased from American equities since New Year's and stocks just suffering their most volatile week since 2011, the last thing bulls need are signs companies will back away from their role in propping up the market.
"What's happened the past year is earnings have dropped so companies are running out of room for buybacks and dividends as financial engineering for the sake of share price appreciation," Michael O'Rourke, chief market strategist at Jonestrading Institutional Services LLC, said by phone. "The corporate buyer has been a real theme, a positive catalyst, and they're one of the last buyers left at his point."
The dangers of removing demand from the stock market have been on display during the current selloff. Buybacks are customarily suspended for about a month before companies report quarterly results. Projecting that period back to mid-December, the S&P 500 has declined 6.6 percent, in five of the last six weeks. The 50 stocks in the S&P 500 with the highest dividends have declined an average 11.3 percent since the start of the year.
Total cash dividends handed out last year by companies in the S&P 500 totaled $43.49 per share, compared with $106.39 in expected annual operating earnings, according to data compiled by S&P Dow Jones Indices. On an absolute basis, payouts in 2015 swelled to the most ever and and accounted for a higher proportion of operating earnings than any period since 1994, apart from a stretch from 2008 to 2009.
It's a sign to Convergex Group LLC's Nick Colas that companies may be stretching themselves too thin as profits in the S&P 500 decline.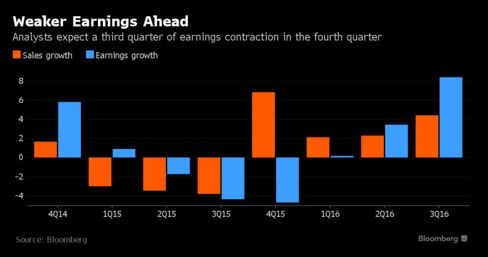 "It puts a very sharp point on the issue to focus on in 2016 earnings, it tells you just how important earnings and cash flow guidance is for the year," Colas, the New York-based chief market strategist at Convergex, said by phone. "The current data certainly feels more like payouts ratios set after years of earnings growth but now challenged by slowly eroding earnings power."
The current level of dividend coverage isn't unprecedented: from 1989 to 1994, they averaged 52 percent of income as the S&P 500 dropped 20 percent before entering a bull market that didn't stop until the dot-com bubble of 2000. The next time the ratio jumped above 40 percent was in the second quarter of 2008. It climbed to 60 percent by September 2009 -- encompassing both the start of the financial recession and the beginnings of the current bull market.
Amplifying the concern this time are falling profits and high margins. S&P 500 companies are expected to show a decline in earnings for a third quarter in a row. Operating earnings per share in 2015 fell 5.9 percent from the year before, while dividends per share grew 10 percent.
"We've seen some risks to dividend safety," Savita Subramanian, chief equity strategist at Bank of America Merrill Lynch, said by phone. "Small to mid-cap payout ratios are at the highest we've ever seen, and you've seen dividend cuts in pockets of the market that creates an environment where their safety is less certain."
While earnings are in retreat, it's not like companies lack funds. Cash and equivalents in S&P 500 companies averaged $3.2 billion as of last quarter, compared with $2.1 billion at the beginning of the bull market, Bloomberg data show. With interest rates near zero, companies have usually decided the best use for that money is to give it to investors.
"As far as the broader concern about money being put out to shareholders, it's more a function of opportunities for companies and what is efficient for companies," said Allen Bond, a portfolio manager who helps oversee $6 billion at Jensen Investment Management Inc. in Lake Oswego, Oregon. "The payout ratio is poised to be higher but we think that's largely a result of transitory factors on the earnings side."
To bears, earnings are being sustained by profitability levels that are unlikely to last. Among S&P 500 firms, profit margins -- the amount of money that flows through from sales to earnings -- have more than doubled since 2009, reaching a record of 9.37 percent in the third quarter of 2014, data compiled by S&P Dow Jones Indices show.
"We are certainly not at the beginning of an economic expansion," Convergex's Colas said. "This dividend policy, which should be sustainable for a cycle, is anchored on the notion these companies can hold current margins and operating margins are at an all-time high."
Before it's here, it's on the Bloomberg Terminal.
LEARN MORE