Iron Ore Holdings at China Ports Set to Top 100 Million Tons
Increased cargoes to spur climb, China Merchants Futures says

Inventories at highest since May after gaining for four months
Iron ore stockpiles at China's ports are headed back above 100 million tons.
The holdings will probably surge as low-cost supplies rise and steel mills rein in output before and during a nationwide, week-long holiday next month, according to China Merchants Futures Co. Both Citigroup Inc. and Australia & New Zealand Banking Group Ltd. say the threshold for the stockpiles is set to be exceeded, flagging the risk that it'll add to pressure for prices to drop.
"The increase will be driven by higher shipments from Australia and Brazil, especially in the final months of 2015, against a seasonally weak period for China demand," Zhao Chaoyue, an analyst at China Merchants Futures, said by phone on Monday. Zhao predicted the target may be breached before the Lunar New Year break, which starts Feb. 8.
The inventories rose 1.7 percent to 94.55 million tons last week, an eight-month high, according to data from Shanghai Steelhome Information Technology Co. Holdings -- which have expanded for the past four months to climb above their five-year average of 92.7 million tons -- last topped the 100 million ton mark in March.
Iron ore prices have been pummeled over the past three years as supplies from exporters including Rio Tinto Group and BHP Billiton Ltd. in Australia and Brazil's Vale SA expanded while China's steel output and demand fell. Citigroup, which last week raised the possibility that iron ore may sink into the $20s a ton, has said the port stockpiles will probably climb above 100 million tons in the first half before tapering lower.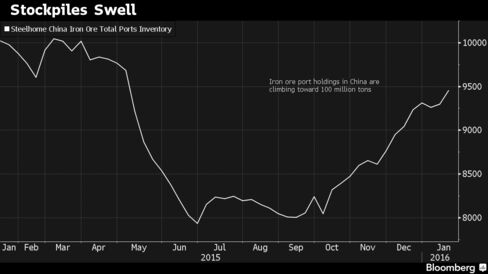 "I don't think there's an appetite for people to hold that much inventory on a sustainable basis," Szpakowski said in a Jan. 14 interview. "I don't think traders or steel mills want to hold that much inventory, especially if demand is weak and prices are weak."
Mills in China typically join other industries in scaling back output over the Lunar New Year break as construction slows and workers take time off. After the holiday, more mills will resume operations, lifting demand for ore and cutting the port holdings, according to China Merchants's Zhao.
Imports of iron ore by China increased 17 percent to a record 96.27 million tons last month, according to customs data. The same month, miners in Brazil shipped 39.5 million tons, an all-time high and 41 percent more than in November, government figures show.
Strong Shipments
"Stockpiles are likely to rise in February," ANZ analyst Anurag Soin said in an e-mail on Monday, predicting that the 100 million ton figure will probably be topped next month. The increase would be driven by strong shipments from overseas as well as slowing demand from real estate and infrastructure, Soin said.
Ore with 62 percent content delivered to Qingdao advanced 3.7 percent to $42.66 a dry ton on Monday after dropping 2.4 percent last week, according to Metal Bulletin Ltd. The commodity sank to $38.30 on Dec. 11, a record in daily prices dating back to May 2009.
Goldman Sachs Group Inc. has said iron ore will probably remain under $40 through 2018 as the slowdown in China, including the deteriorating health of its steel industry, forces the global industry into hibernation. China's statistics bureau will report steel-production numbers on Tuesday that'll show the first full-year drop since at least 1991.
Before it's here, it's on the Bloomberg Terminal.
LEARN MORE