British Airways Owner IAG Keen on Used A380s, Sees M&A Prospects
Company considering about half a dozen second-hand superjumbos

Walsh says there are plenty more deals for group to do
British Airways owner IAG SA is evaluating whether to add a batch of five or six used Airbus Group SE A380 aircraft to the 12 it has on order after deciding that buying more superjumbos outright isn't feasible.
While BA has 10 A380s in service with the final two due in February and June, converting options for seven planes that the U.K. carrier has in hand would be "too expensive," Chief Executive Officer Willie Walsh said Monday in Dublin, where he also told reporters that IAG sees opportunities for more takeovers.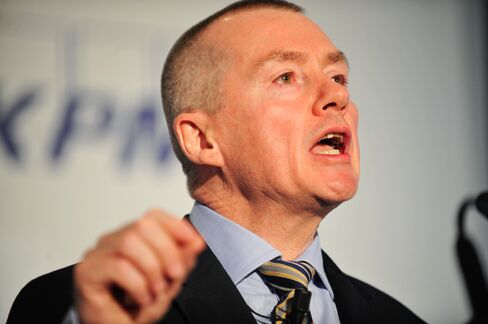 "We see second-hand A380s as an attractive opportunity," Walsh said at the Airline Economics 2016 conference. "I don't mind where the aircraft come from. What we've said is we're interested and therefore if there are aircraft available, don't be afraid to talk to us. We've already had some discussions with potential lessors."
Airbus has long argued that leading carriers such as British Airways have a requirement for 450-seat-plus aircraft that goes significantly beyond their orders to date. IAG taking used planes would vindicate that belief and help establish a second-hand market for the A380, while failing to translate into extra orders for a model that garnered just three last year.
Slow Starter
British Airways, the world's biggest operator of Boeing Co. 747 jumbos, was slow to take the A380, with the first entering service only in late 2013, long after the model made its debut with rivals carriers Air France-KLM Group and Deutsche Lufthansa AG. Walsh said he's a now fan of the superjumbo.
"Its unit costs, if you can fill the plane, are very attractive," Walsh said, adding that BA operates two A380s a day to Los Angeles where it once used three 747s, maintaining capacity while freeing up a slot at London Heathrow.
Walsh said he's in no immediate hurry to swell superjumbo numbers since the oil price means BA's 39 747s are efficient enough. The aircraft must have Rolls-Royce Holdings Plc engines to ensure commonality with the existing A380 fleet, he said. That points to jets that may be released from Singapore Airlines Ltd. rather than a batch that could become available from Dubai's Emirates.
Amedeo Role
Mark Lapidus, CEO of lessor Amedeo, said in Dublin that his company -- which has orders for 20 A380s -- is involved with Airbus in as many campaigns to place used superjumbos as for new-aircraft rentals. Pricing is keen and the planemaker is offering engine-style maintenance deals to entice carriers put off by the expense of training people to service a small fleet, he said.
IAG is also looking at leasing used Boeing 777s, the CEO said. Buying the jets is an option, though the London-based company envisages having a greater proportion of leased aircraft in future than it has traditionally had, he said.
Walsh said that he remains acquisition-focused and that "there are a lot more deals for IAG to do," though the company, whose holding structure was specifically designed to make takeovers easier, isn't actively pursuing any one transaction right now.
"If the right opportunity came along we'd certainly look at it," he said. "The deals we've done have been very good for IAG."
Walsh said last Thursday that he'd signed a joint venture pact according to which IAG will seek antitrust approval for BA and sister unit Iberia of Spain to coordinate schedules and pricing with Latam Airlines Group SA, the biggest South American carrier. The CEO had said in October that he such a deal might pave the way for an equity link in the more distant future.
Formed from a BA-Iberia merger in 2011, IAG has gone on to buy the former British Midland, control of Spanish discount carrier Vueling, and most recently Ireland's Aer Lingus Group Plc, which he said in Dublin could add U.S. flights.
Walsh said British Airways is also examining the scope for the reinstatement of services to Iran following the end of sanctions over the country's nuclear program, and is likely to take a decision in the "near future."
Before it's here, it's on the Bloomberg Terminal.
LEARN MORE