Home24 CEO Sees Online Furniture Sales Benefiting From Ikea Push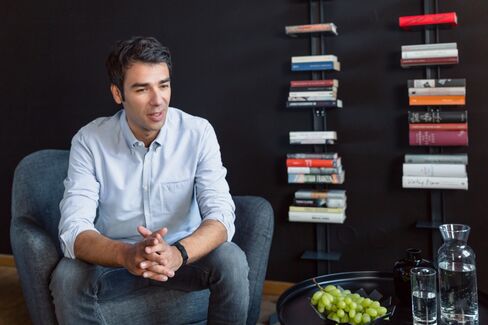 Retailer backed by Rocket, Europe's biggest startup factory

Home24 wants to have stronger focus on profitability
Online retailer Home24 AG's chief executive officer said a push by giant rival Ikea Group to sell more bookshelves and sofas through the Web will boost his own business by making customers more comfortable with buying furniture online.
Ikea said last month it expects to get 10 percent of its sales from the Web by 2020, up from about 3 percent now. The move by the Aelmhult, Sweden-based company is bound to help Home24, CEO Domenico Cipolla said in an interview at the retailer's headquarters in Berlin.
"The potential for online furniture sales is far from fully explored," Cipolla said. "If Ikea wants to be more active online, then we're convinced that this will help us."
For decades, traditional furniture retailers have relied on shoppers driving to out-of-town outlets, collecting products from warehouses and spending time screwing flat-packs into bookshelves and cabinets. Now, online furniture sales are expanding in many markets around the world. In Germany, they rose to 6 percent of the 32.6 billion euros ($35.5 billion) in total revenue last year, up from 4 percent in 2014, according to the BVDM furniture lobby.
While Home24 sells home furnishings in seven European countries and Brazil, Ikea has stores in 28 countries and generated revenue of 32 billion euros last year, more than 100 times Home24's sales. The Swedish retailer sells as many as 8,000 of its 9,500 products on the web in some markets, compared to 180,000 at Home24.
Home24 is backed by Rocket Internet SE, Europe's biggest startup factory, which has copied successful U.S. Internet companies by hiring staff, providing management know-how and funding initial marketing -- a formula that has turned its founders, brothers Oliver, Marc, and Alexander Samwer, into billionaires.
Beds, Mattresses
Home24 plans to introduce more house brands in the coming months after launching several last year, including lamps, beds and mattresses. The company, which employs more than 1,000 people, doubled its operating loss to 56.2 million euros in the first nine months of last year. Home24 wants to push much more strongly in the direction of profitability now, Cipolla said. He declined to provide a target date for reaching a profit.
Home24 has cut the number of products returned by shoppers to "far below" 10 percent from as high as 15 percent by improving product photographs on the web and optimizing logistics, the CEO said. He plans to continue to weed out products and suppliers that don't live up to quality standards.
"The reality in today's offline furniture retail sector is that a large share of the products are getting to the customer damaged, delayed or not at all -- and we want to change that," he said.
Meanwhile, Cipolla, 35, is still talking to potential investors after raising 120 million euros from companies including Rocket Internet and Baillie Gifford last year, he said. Other backers include Investment AB Kinnevik and Rewe Group.
Before it's here, it's on the Bloomberg Terminal.
LEARN MORE