Bank CoCos Beat Shares in Sweden as Watchdog Targets Flexibility
Higher return, lower risk?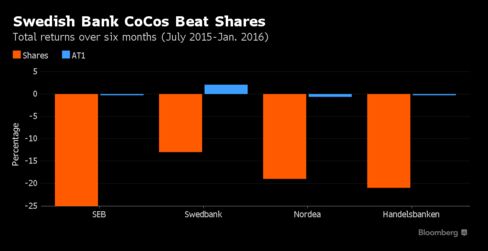 Like their European peers, Sweden's biggest banks have delivered pretty poor returns to their shareholders over the past half year. But if you owned their Additional Tier 1 debt -- the riskiest bank bonds -- you did considerably better (see chart).
Additional Tier 1 notes are bonds that stop paying coupons if issuing banks' capital falls too low and, if it falls even lower, convert into equity or are written down. Basel III-compliant AT1s have only been around since 2013, so there's still a lot of uncertainty about how regulators will treat them if buffers shrink.
In Sweden, the securities are enjoying something of a regulatory tailwind.
Under European rules, investors in AT1s -- a type of contingent convertible bond -- will lose coupon payments if banks' total capital falls short of what national and European regulators require. Shareholders would also lose their dividends. But that won't apply in Sweden.
To improve a bank's chances of survival, The Swedish Financial Supervisory Authority says it could let an issuer continue paying coupons even if capital levels drop below a level that would normally trigger deferment. The idea being that the bank won't become a pariah in capital markets if it's allowed to continue making payments.
"It could be more appropriate for the bank because it could ease its prospects for recapitalization," Karin Lundberg, deputy executive director for banks at the FSA in Stockholm, told Bloomberg. "In other situations, it might be more appropriate to cut all distributions."
The rule has existed since 2014, but the Swedish regulator says some investors are confused so it wants to clarify its position. She says a December statement by the European Banking Authority generated queries about potentially conflicting regulations.
Sweden's approach gives the regulator a great deal more discretion.
"It's not possible beforehand to specify what we'd do in a specific situation," Lundberg said. "The whole idea is to retain as much flexibility for the FSA as possible."
The approach is linked to Sweden's treatment of Pillar 2 requirements, or the capital demands a national regulator adds to minimum standards. The Swedish FSA, unlike most other regulators, publishes Pillar 2 requirements. But it doesn't make a "formal decision" on how much Pillar 2 capital its banks should hold, just a recommendation.
That means the European requirement to automatically withhold payments doesn't kick in.
Investors in Swedish AT1s "will have to accept there is a lot of discretion in the hands of the supervisor, and that depends largely on whether we take a formal decision or not," Lundberg said. "The bank still needs to hold the same capital, it still needs to reconstruct its capital base when it's below. But the way to do that is made discretionary if a formal Pillar 2 decision isn't taken."
Before it's here, it's on the Bloomberg Terminal.
LEARN MORE