Bond Market Sounds Inflation Warning as Outlook Slides With Oil
U.S. break-even rate approaches lowest level since 2009

Drop in crude risks further undermining central bank goal
The bond market's outlook for inflation across the world is souring.
With commodity prices sliding, investors are showing less confidence on future price growth. A 10-year gauge of U.S. market inflation expectations touched its lowest level since September on Friday, while a similar measure for U.K. retail price inflation dropped to the least since 2009. Meanwhile the two-year rate in the euro area's largest economy, Germany, slid to the lowest since August.
Slower price growth provides a double fillip for bond investors, as it preserves the value for fixed payments linked to the securities and threatens the inflation levels targeted by central banks, which may delay moves toward tighter policy or prompt further stimulus. As of the most recent reports, inflation rates in the U.S., U.K. and euro region were at least 1 percentage point below the respective goals of the Federal Reserve, Bank of England and European Central Bank.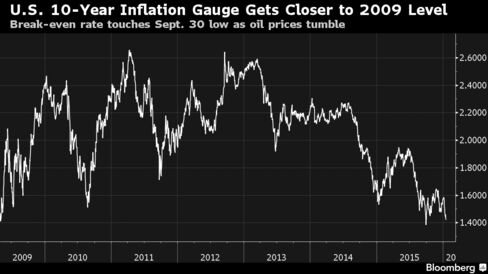 "Where's the pressure going to come from?" said Charles Diebel, the London-based head of rates at Aviva Investors, which oversees about $353 billion. "The big risk now is that there is a shock to the global economy because then this goes from just being a movement in prices of commodities. Then you've got a real problem because you've got proper deflationary risk."
The U.S. 10-year break-even rate, an indication of inflation expectations derived from the yield difference between gilts and index-linked securities, narrowed four basis points, or 0.04 percentage point, to 1.42 percent as of 11:52 a.m. New York time, the lowest level since September, based on closing prices. That's about four basis points away from a six-year low.
An equivalent measure for U.K. retail price growth was at 2.26 percent, the lowest since June 2009, while Germany's two-year break-even rate fell to minus 0.09 percent. The U.S. 30-year gauge tumbled to 1.58 percent, the least since 2009.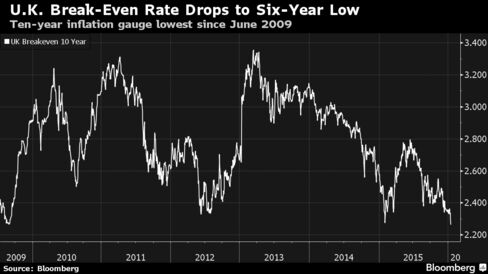 The moves come as a report Friday showed U.S. wholesale prices declined in December from the prior month, indicating inflation is still well-contained as Federal Reserve officials weigh further increases in the benchmark interest rate.
Data next week will show the U.K. inflation rate held close to zero in December and wage growth cooled in the three months through November, according to economists surveyed by Bloomberg. A report will also confirm the euro-area inflation rate stayed at just 0.2 percent last month, according to a separate survey.
Falling raw-material prices are adding to pressure on prices with West Texas Intermediate futures for February delivery dropping as low as $29.28 per barrel Friday and the Bloomberg Commodity Index tumbling to the least since 1991.
Before it's here, it's on the Bloomberg Terminal.
LEARN MORE