Top Taiwan Fund Manager Cuts Stock Holdings Before Election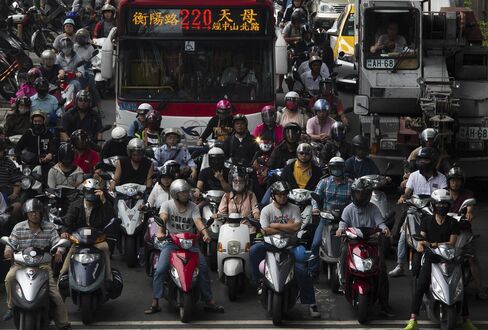 Manulife Asset, Blackfriars are neutral on Taiwanese shares

Taiwan's shares have seen biggest outflows in Asia this year
Top-performing Taiwan fund manager Vincent Yang has reduced his stock holdings before this weekend's historic presidential poll, while Blackfriars Asset Management Ltd. and Manulife Asset Management Ltd. are refraining from buying the island's equities.
Saturday's election is coming at a critical time for the island's stock market, which has fallen more than 7 percent this year as foreigners pulled $1.5 billion from local equities, the most of any Asian market tracked by Bloomberg. The possibility of a rush in fund redemptions amid the political uncertainty is prompting Yang to cut his holdings in the Franklin Templeton SinoAm Conventional Industry Fund to about 84 percent of his portfolio, lower than the long-term average of about 88 percent, he said in an interview.
Tsai Ing-wen,chairwoman of the Democratic Progressive Party, is making her second attempt to become the island's first female leader as she runs against Eric Chu, leader of the ruling Kuomintang, amid local dissatisfaction over slow growth and stagnant wages. While the DPP's charter officially supports independence from China, an idea opposed to the Communist Party, Tsai pledges to maintain relations with Taiwan's long-time rival.
"If the DPP gets elected, it won't lead to complete halt in cross-strait interaction, though it may be different in terms of how much the both sides are linked and how soon we are opened up," said Yang, whose fund has beaten 98 percent of its peers in the past year, according to data compiled by Bloomberg.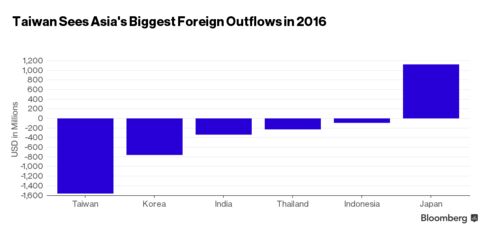 The DPP is vying for a majority in the 113-seat Legislative Yuan, leaving the KMT and its allies shut out of power for the first time since Chiang Kai-shek led them across the Taiwan Strait during the the Chinese civil war. Tsai has promised a government focused on reining in housing costs and expanding the biotechnology industry.
For that reason, Yang is adding biotech stocks to his portfolio. The outlook for electronics companies is less favorable amid concern about slowing demand for Apple Inc.'s products, he said.
Taiwanese stocks have fallen this year on concern the island's economy will slow further amid financial turmoil in China, its biggest trading partner, and tepid demand for smartphones. China's Shanghai Composite Index is the world's worst-performing global stocks measure this year with a 17 percent loss, while the yuan has fallen 5.8 percent in Shanghai since a surprise devaluation on Aug. 11, even as the central bank burnt through $321 billion of its foreign-exchange reserves supporting the currency over the last five months.
Blackfriars Asset's Tony Hann expects the DPP to prevail in the elections and says a stocks recovery will depend on how the new leadership manages its relations with China and whether there will be recovery in demand for technology products. He is neutral on Taiwanese equities.
Apple Concern
Expectations that Apple's iPhone sales are faring worse than anticipated have depressed its shares along with its main rivals and suppliers, including Samsung Electronics Co. and Hon Hai Precision Industry Co. Samsung this month reported fourth-quarter earnings below analysts' estimates, the latest sign the global smartphone market is running out of steam as markets mature and China's economy decelerates.
"We have seen some marked downgrades in the outlook for Apple sales," said Tony Hann, who helps oversee about $270 million as head of equities at Blackfriars Asset in London. "Taiwan will be more of a second-half story this year."
Ronald Chan, the Hong Kong-based chief investment officer of Asia ex-Japan equities at Manulife Asset, says the outlook for China's economy and the yuan is the most important factor affecting Taiwan's stocks.
"No matter who wins, the fact that China is slowing down is what Taiwan will go through," said Chan, who turned neutral on Taiwanese stocks after being overweight last year. "It's more to do with the current situation in China where there are a number of issues such as policy uncertainty, economic slowdown and the yuan's depreciation."
Before it's here, it's on the Bloomberg Terminal.
LEARN MORE