Schindler Founding Family Passes Baton Naming China Head CEO
Current chairman Alfred Schindler to step down in year's time

Oetterli to assume CEO position from beginning of April
Schindler Holding AG unveiled the biggest management reshuffle in the Swiss elevator maker's 142-year history by appointing the head of its Chinese operation as chief executive officer and winding down the founding family's influence with the replacement of Chairman Alfred Schindler.
Thomas Oetterli, who started out at Schindler in 1994 as a project leader in accounting, will take over as CEO on April 1, replacing Silvio Napoli, who moves to the role of chairman in 2017, the Ebikon, Switzerland-based manufacturer said in a statement Friday. Alfred Schindler will remain available as a board member. The shares fell 0.7 percent to 153.80 Swiss francs as of 11:05 a.m. in Zurich.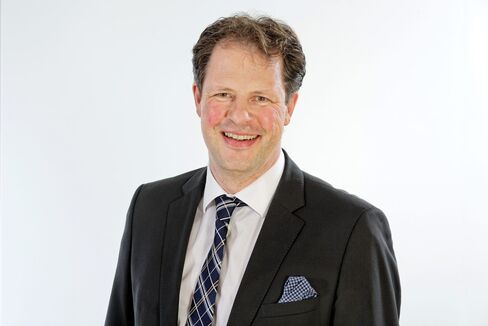 The overhaul is a further sign that the Swiss tradition of founding families remaining at the center of management over successive generations is on the wane. The Schindler-Bonnard family pool, which owned 70 percent of the voting rights and 42 percent of the capital at the end of 2014, has no plans to jettison its stake even as they take a back seat after four generations of management, the chairman said.
"The pool shareholders have no intention at all to bow out," Alfred Schindler told journalists at a press conference in Lucerne, Switzerland. The company's long-term strategy will remain unchanged, he said.
China
China is core to the elevator maker's strategy for growth. The world's second-largest economy had accounted for about 70 percent of global elevator orders before the onset of a slowdown that's curbing demand for installations by Schindler and rivals.
Schindler said today he will continue with his work to strengthen company statutes against certain takeover scenarios after seeing what he described as a "soap opera" of a situation arise at Sika AG. The Swiss adhesives maker is fighting the decision of its founding family to sell a stake with majority voting rights to French rival Cie. de Saint-Gobain SA.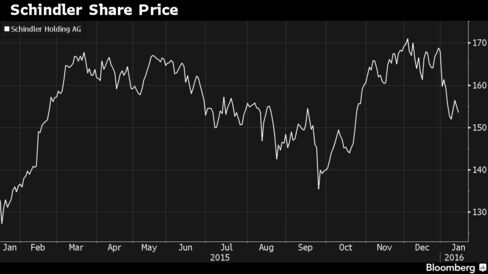 Schindler is valued at about 17.3 billion francs ($17 billion).
Before it's here, it's on the Bloomberg Terminal.
LEARN MORE